A distinct boho-chic and romantic touch.
Established in 2001, Ella Moss is a fashion clothing brand owned by Delta Galil Industries founded by designer Pamella Protzel which is based in Los Angeles. Pamella Protzel originally attended Pasadena's Art Center studying graphic design, when she decided that fashion was her true passion. She then enrolled at The Fashion Institute of Design and Merchandising in L.A.. Shortly after, Protzel Scott was hired by Moise Emquies, working at his company, Mo Industries. Protzel and Emiquies eventually decided to join forces and create the line Ella Moss, taken from Pamella's nickname and Moise's nickname. They describe the line in three words: "Hip, quirky, fashionable".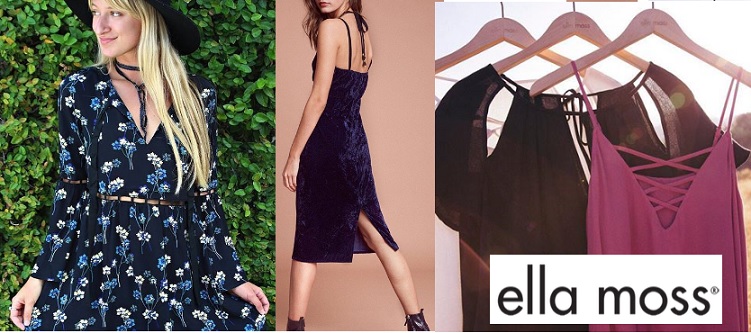 Learn more about the women's Ella Moss fashion brand.
Ella Moss offer stylish and fashionable curated collections for today's women – confident, fashionable and soulful. Ella Moss is known for coveted statement pieces and acute attention to details and finishing touches.
If you have changed your mind and do not wish to research the brand Ella Moss, you can use the search engine on this page to find another clothing label that may be of more interest.
When you are ready to research additional fashion brands for women you can try the following pages to find our alphabetical list of women's fashion brands.
Have you seen our Fashion Designer Directory section.
Apparel Search is a leading guide to fashion, style, clothing, glam and all things relevant to apparel. We hope that you find this Ella Moss page to be helpful.
What ever you are wearing, is in style.

Ella Moss