The house of Fendi was launched in 1925 by Adele and Edoardo Fendi as a fur and leather shop in Via del Plebiscito, Rome. Since 1946, the five second generation sisters (Paola, Anna, Franca, Carla and Alda) joined the company. Karl Lagerfeld joined Fendi in 1965 and became the Creative Director for Fur and also for Women Ready-to-Wear (launched in 1977). Silvia Venturini Fendi, daughter of Anna, joined in 1994 and is the Creative Director for Accessories and Men's lines. Since 2001, Fendi became a multinational luxury fashion brand and member of LVMH group.
Fendi is an Italian luxury fashion house whose specialities include fur, ready-to-wear, leather goods, shoes, fragrances, eyewear, timepieces and accessories. Founded in 1925 in Rome, Fendi is renowned for its fur and fur accessories. Fendi is also well known for its leather goods such as "Baguette", 2jours, Peekaboo or Pequin handbags.

Learn more about the women's Fendi fashion and accessories brand.
The journey of Fendi began over ninety years ago in a family-run shop on Via del Plebiscito, in the heart of Rome, Italy. The everlasting charm of the Eternal City and the daring creativity of Fendi go hand-in-hand, as both blaze a trail into the future. Since the beginning, they have created fine luxury items and the tradition of excellence continues today. Great brand to learn more. Visit their website when you have a moment at https://www.fendi.com/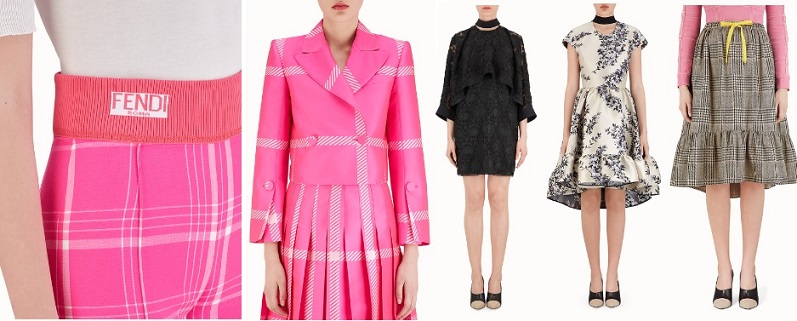 If you have changed your mind and do not wish to research the brand Fendi, you can use the search engine on this page to find another clothing label that may be of more interest.
When you are ready to research additional fashion brands for women you can try the following pages to find our alphabetical list of women's fashion brands.
Have you seen our Fashion Designer Directory section?
Apparel Search is a leading guide to fashion, style, clothing, glam and all things relevant to apparel. We hope that you find this Fendi page to be helpful.
What ever you are wearing, is in style.

Fendi