A century after its humble beginnings, Fila has become synonymous with performance and sophistication. Worn not only by internationally recognized athletes, but the fashion conscious, Fila uses premium fabrics designed to radiate the sophistication of Italian craftsmanship, while allowing maximum flexibility and performance. Their legacy of style earns them admiration from women that enjoy sport as well as fashion. Whether you perform for the challenge of adventure, the rigor of competition, or simply the pleasure and well-being of an active life, Fila will help take you wherever you want to go, because they understand that the beauty of sport is that of a life in motion.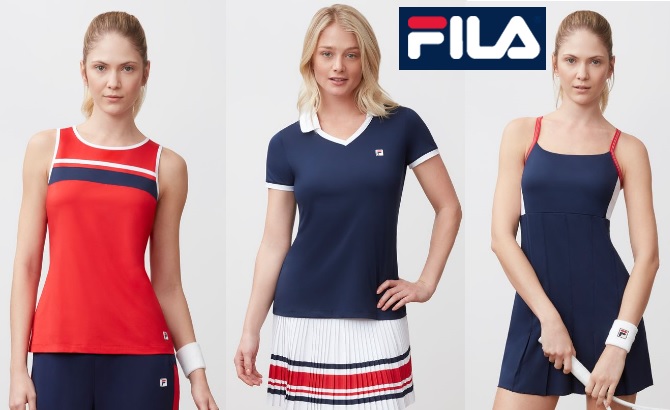 Fila, Inc. is a South Korean sporting goods company. Fila was founded in 1911 in Italy. Since a takeover in 2007 by Fila Korea, Fila is now owned and operated from South Korea.
Learn more about the women's Fila apparel brand.
If you have changed your mind and do not wish to research the brand Fila, you can use the search engine on this page to find another clothing label that may be of more interest.
When you are ready to research additional fashion brands for women you can try the following pages to find our alphabetical list of women's fashion brands.
Have you seen our Fashion Designer Directory section.
Apparel Search is a leading guide to fashion, style, clothing, glam and all things relevant to apparel. We hope that you find this Fila page to be helpful.
What ever sporty style you are wearing today is in fashion this season for sure.

Fila Fashion