Hush Puppies uses a Basset Hound named Jason as its logo which are occasionally referred to as "hush puppies" for that reason.
Hush Puppies is an American internationally marketed brand of contemporary, casual footwear for men, women and children. The shoes have been described as "the classic American brushed-suede shoes with the lightweight crepe sole".
The Hush Puppies brand was founded in 1958 following extensive work by Wolverine to develop a practical method of pigskin tanning for the US military. The brand became instantly recognizable as a leisure casual staple of late 1950s and 1960s American life.
Learn more about the women's Hush Puppies footwear brand.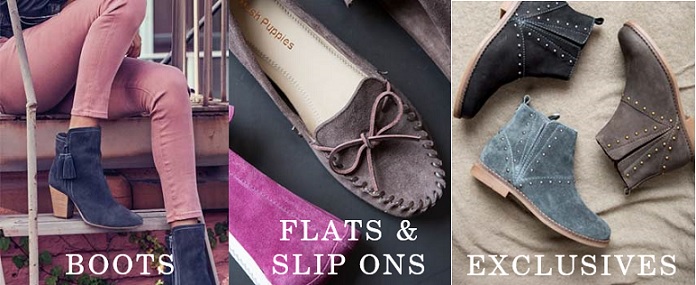 A division of Wolverine World Wide. Learn more about the Wolverine World Wide footwear company here on Apparel Search.
Hush Puppy shoes are referenced in a number of songs, such as Jimmy Buffett's "Come Monday", Oran "Juice" Jones's "The Rain", and Pete Townshend's "Rough Boys".
If you have changed your mind and do not wish to research the brand Hush Puppies, you can use the search engine on this page to find another clothing label that may be of more interest.
When you are ready to research additional fashion brands for women you can try the following pages to find our alphabetical list of women's fashion brands.
Have you seen our Fashion Designer Directory section.
Apparel Search is a leading guide to fashion, style, clothing, glam and all things relevant to apparel. We hope that you find this Hush Puppies page to be helpful.
What ever style of shoe you are wearing today is in style.

Hush Puppies