JanSport started making packs and outdoor gear back in 1967. They are about the journey, the discovery of fun, freedom, and adventure. They design and make world-class products.
JanSport is an American brand of backpacks and collegiate apparel, now owned by VF Corporation, one of the world's largest apparel companies. JanSport is the world's largest backpack maker, and together, JanSport and The North Face, also owned by VF Corporation, sell nearly half of all small backpacks sold in the United States.
At JanSport, they continue to innovate and build functional gear that fits you and your life, and inspires your journey.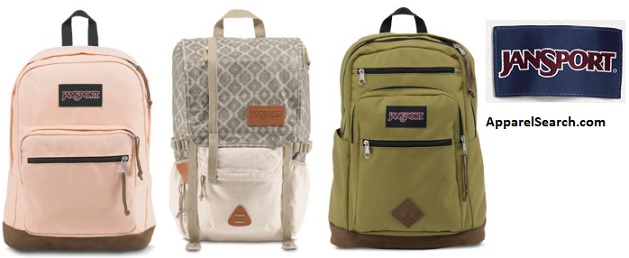 Learn more about the women's Jansport brand.
All of their packs come with a lifetime warranty. Because good stuff should last. Theirs does, or they fix it. No questions asked.
If you have changed your mind and do not wish to research the brand Jansport, you can use the search engine on this page to find another label that may be of more interest.
When you are ready to research additional fashion brands for women you can try the following pages to find our alphabetical list of women's fashion brands.
Have you seen our Fashion Designer Directory section.
Apparel Search is a leading guide to fashion, style, clothing, glam and all things relevant to apparel. We hope that you find this Jansport page to be helpful.
What ever backpack or bag you are carrying today is in style.

Jansport