Ready to wear, lingerie, nightwear, beachwear, accessories, and more.
Founded by couturière Ada Masotti in Bologna in 1954, La Perla is one of few historical fashion houses with a woman founder.
La Perla is an Italian luxury lifestyle company owned by Italian entrepreneur Silvio Scaglia through the Pacific Global Management holding. Historically a lingerie brand, La Perla has expanded into lifestyle offerings including beachwear, sleepwear, bags, shoes and ready-to-wear.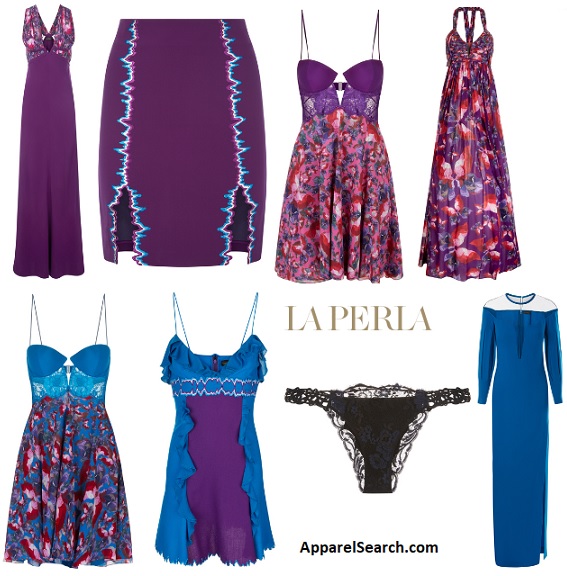 Learn more about the women's La Perla fashion brand at their website.
La Perla was founded by master corsetmaker Ada Masotti in 1954 in Bologna, Italy, where the tradition of silk factories and textile manufacturing dates back to the 17th Century. While working in a local atelier, she was given the nickname "golden scissors" for her exacting cutting and tailoring abilities. The Masotti family redefined lingerie as a clothing accessory. Ada Masotti would drape fabric directly on the female body, achieving expert awareness of line and movement.
In June 2013 Italian entrepreneur Silvio Scaglia and Pacific Global Management purchased La Perla at auction.
If you have changed your mind and do not wish to research the brand La Perla, you can use the search engine on this page to find another clothing label that may be of more interest.
When you are ready to research additional fashion brands for women you can try the following pages to find our alphabetical list of women's fashion brands.
Have you seen our Fashion Designer Directory section?
Apparel Search is a leading guide to fashion, style, clothing, glam and all things relevant to apparel. We hope that you find this La Perla page to be helpful.
The clothing that you are wearing today is most definitely in style. You are clearly a trendsetter.
La Perla lingerie is known for its corsetry and detailing. Founder Ada Masotti's motto was: "Never compromise on quality and innovation". La Perla's notable technique and materials include frastaglio appliqué technique, Leavers lace and embroidered tulle.

La Perla