When he was only sixteen years old, Louis Vuitton made a decision that would not only change his own life but the lives of his sons and future generations: he would become a trunk maker. In the 1900s, travelers carried all their essentials inside wardrobes and flat trunks which, unfortunately, often attracted burglars. Master trunk maker, Louis Vuitton sought to help his clients protect the goods inside their travel pieces.
The early success of Louis Vuitton meant he had to expand his operations. This lead to the 1859 opening of his atelier in Asnières. Just northeast of the center of Paris, the workshop started with 20 employees. In 1900, there were nearly 100 people and by 1914 there were 225. The original atelier has been expanded throughout the decades — including the addition of the Vuitton family residence — but it is still where products are crafted today. While the family home has been preserved and is part of a private museum, 170 craftsmen work in the Asnières workshop, designing and creating leather goods and special orders for clients around the world. A legendary workshop Both a family residence and the cradle of the company, the Asnières site has been the symbol of the Vuitton family's personal and commercial success since 1859.
Louis Vuitton Malletier, commonly referred to as Louis Vuitton, or shortened to LV, is a fashion house and luxury retail company founded in 1854 by Louis Vuitton. The label's LV monogram appears on most of its products, ranging from luxury trunks and leather goods to ready-to-wear, shoes, watches, jewelry, accessories, sunglasses, etc. Louis Vuitton is one of the world's leading international fashion houses.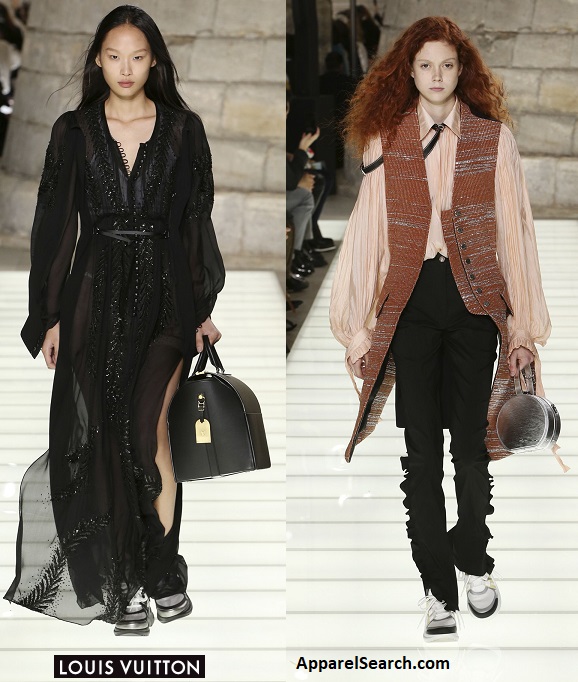 Learn more about the women's Louis Vuitton fashion brand.
Apparel Search presents Louis Vuitton
What ever you are wearing is in style.
Did you know, Louis Vuitton sought to help his clients protect the goods inside their travel pieces. In 1886, Georges Vuitton revolutionized luggage locks with an ingenious closing system that turned travel trunks into real treasure chests. It was the Tumbler Lock.
If you have changed your mind and do not wish to research the brand Louis Vuitton, you can use the search engine on this page to find another clothing label that may be of more interest.
When you are ready to research additional fashion brands for women you can try the following pages to find our alphabetical list of women's fashion brands.
Have you seen our Fashion Designer Directory section.
Apparel Search is a leading guide to fashion, style, clothing, glam and all things relevant to apparel. We hope that you find this Louis Vuitton page to be helpful.

Louis Vuitton