This fashion brand was founded in 1983 by Franco Moschino. Moschino is an Italian luxury fashion house, specializing in leather accessories, shoes, luggage, fragrances etc. Moschino and his fashion label became famous for his innovative, colorful – sometimes eccentric – designs, for his love of fairies, for his criticisms of the fashion industry and for his social awareness campaigns in the early 1990s. After Moschino's untimely death, Rossella Jardini, his former assistant, became creative director.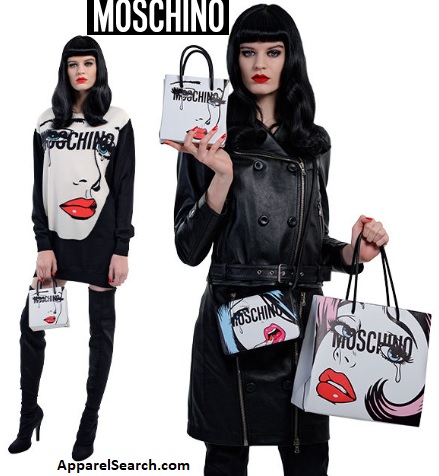 The brand has been part of the Aeffe fashion group since 1999.
Lean more about the women's Moschino fashion brand.

If you have changed your mind and do not wish to research the brand Moschino, you can use the search engine on this page to find another clothing label that may be of more interest.
When you are ready to research additional fashion brands for women you can try the following pages to find our alphabetical list of women's fashion brands.
Have you seen our Fashion Designer Directory section?
Apparel Search is a leading guide to fashion, style, clothing, glam and all things relevant to apparel. We hope that you find this Moschino page to be helpful.
The clothing that you are wearing today is most definitely in style. You are clearly a trendsetter.

Moschino