Quicksilver decided to start a women's fashion collection in 1990. It was a courageous move but it paid off well. Roxy was born in the water and was initially a swimwear line. It debuted in late summer 1990 to instant success. By the next year sportswear was introduced to the collection. In 1992 they further expanded to include denim and a few snowwear pieces. Roxy was a women's clothing brand that offers an authentic surf brand intrigue for women and girls.
In 1993 the Roxy logo was created. A heart-shapped crest adapted from the recognizable Quiksilver logo.
Roxy is now a global lifestyle brand which offers products for every aspect of an active women's life.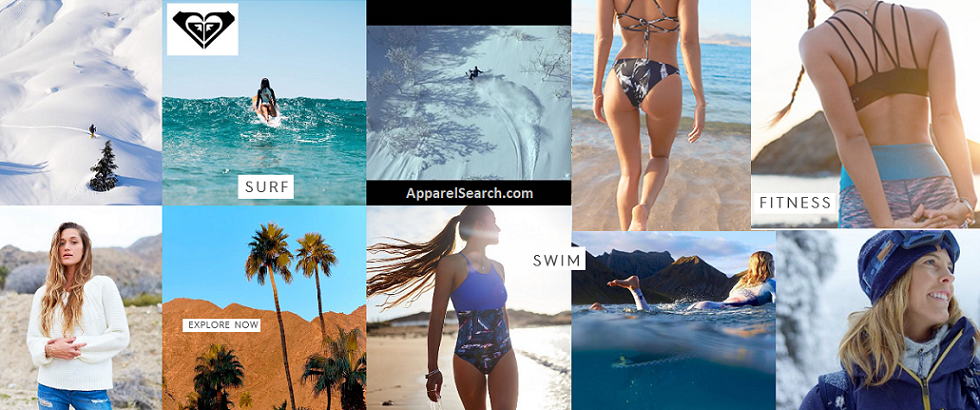 Learn more about the women's Roxy brand clothing at their website.
Quiksilver, Inc. is an American retail sporting company, founded in Torquay, Australia, but now based in Huntington Beach, California. It is one of the world's largest manufacturers of surfwear and other boardsport-related equipment. Its logo, designed by company founder Alan Green and John Law in 1973, was inspired by Japanese painter Hokusai's woodcut The Great Wave off Kanagawa. It consists of a large wave with a mountain on a red background.
If you have changed your mind and do not wish to research the brand Roxy, you can use the search engine on this page to find another clothing label that may be of more interest.
When you are ready to research additional fashion brands for women you can try the following pages to find our alphabetical list of women's fashion brands.
Have you seen our Fashion Designer Directory section.
Apparel Search is a leading guide to fashion, style, clothing, glam and all things relevant to apparel. We hope that you find this Roxy page to be helpful.
What ever you are wearing is in fashion today.

Roxy