Tommy Bahama is a Seattle-based manufacturer of casual, men's and women's sportswear and activewear, denim, swimwear, accessories, footwear and a complete home furnishings collection, and is owned by Atlanta-based Oxford Industries.
Tommy Bahama designs, sources and markets men's and women's sportswear and related products that are intended to define casually elegant island living consistent with Tommy Bahama's aspirational lifestyle. The target consumers of Tommy Bahama are affluent 35 and older men and women who embrace a relaxed and casual approach to daily living. We also license the Tommy Bahama name for a wide variety of product categories.
Tommy Bahama's products can be found in their own company retail stores, on their e-commerce site and in certain department stores and independent specialty stores throughout the United States.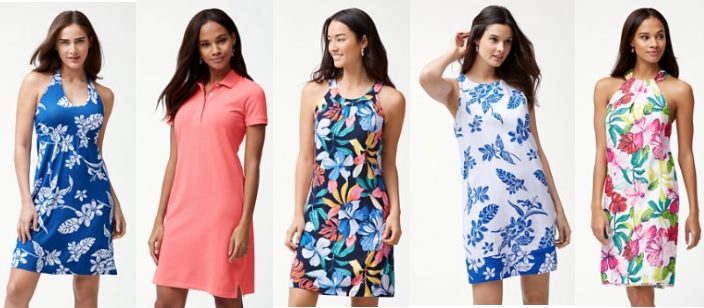 Learn more about the women's Tommy Bahama fashion brand.
The world of Tommy Bahama is a place without demands or deadlines. Live spontaneously, and relax in style.
If you have changed your mind and do not wish to research the brand Thommy Bahama, you can use the search engine on this page to find another clothing label that may be of more interest.
When you are ready to research additional fashion brands for women you can try the following pages to find our alphabetical list of women's fashion brands.
Have you seen our Fashion Designer Directory section.
Apparel Search is a leading guide to fashion, style, clothing, glam and all things relevant to apparel. We hope that you find this Thommy Bahama page to be helpful.
Keep in mind that sometimes the brand of clothing you've always loved won't fit as well as it has in the past. As a matter of fact, the quality could change at your favorite designer's shop, as they adjust their demographics or respond to shifts in consumer spending etc. So remember to keep your favorite and most familiar brands on hand. You should always keep your eyes open for the next up-and-coming designer labels, as well. Today's unknown designer brand could become tomorrow's favorite!
The clothing that you are wearing today is most definitely in style. You are clearly a trendsetter.

Thommy Bahama