Products manufactured by Under Armour include athletic shoes, t-shirts, jackets, hoodies, pants, leggings, shorts and accessories such as bags, gloves, caps and protective gear.Under Armour also produces American football, basketball and soccer uniforms, among other sports.
Under Armour promotes its products by sponsorship agreements with many celebrity athletes, professional teams and college athletic teams, a field in which it competes with other sports apparel companies.
It started with a simple plan to make a superior T-shirt. A shirt that provided compression and wicked perspiration off your skin rather than absorb it. A shirt that worked with your body to regulate temperature and enhance performance.
Founded in 1996 by former University of Maryland football player Kevin Plank, Under Armour is the originator of performance apparel - gear engineered to keep athletes cool, dry and light throughout the course of a game, practice or workout. The technology behind Under Armour's diverse product assortment for men, women and youth is complex, but the program for reaping the benefits is simple: wear HeatGear® when it's hot, ColdGear® when it's cold, and AllSeasonGear® between the extremes.
Learn more about the women's Under Armour brand clothing & footwear at their website.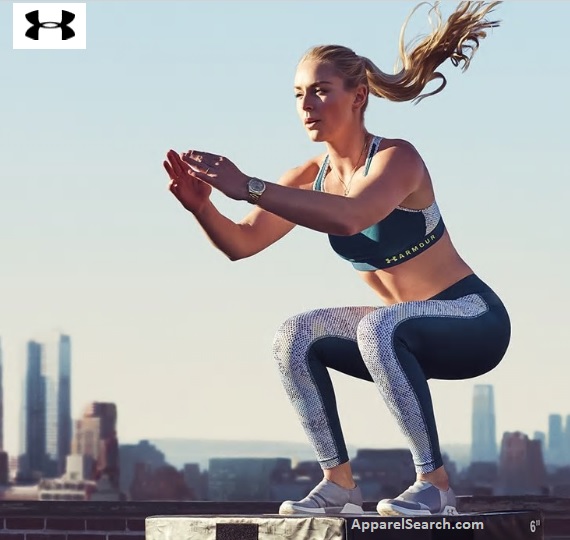 Learn more about Under Armour.
If you have changed your mind and do not wish to research the brand Under Armour, you can use the search engine on this page to find another clothing label that may be of more interest.
When you are ready to research additional fashion brands for women you can try the following pages to find our alphabetical list of women's fashion brands.
Apparel Search is a leading guide to fashion, style, clothing, glam and all things relevant to apparel. We hope that you find this Under Armour page to be helpful.
What ever fitness apparel you are wearing is in style.
Under Armour's mission is to make all athletes better through passion, design and the relentless pursuit of innovation.

Under Armour