Inspired by creative spirit, Volcom was founded in 1991 and creates products for the persistent who are true to their passions.
Volcom is a lifestyle brand that designs, markets, and distributes boardsports-oriented products. The company primarily produces clothing, footwear, accessories, and related products for young men and women. Volcom is headquartered in Costa Mesa, California, United States. Volcom is known for its trademark stone logo, its slogan True to This.
Richard Woolcott and Tucker Hall, set off on a snowboard trip that would forever change their lives. Tucker had just been laid off from work but that wouldn't stop him from attending his routine Tahoe trip to visit Nathan Fletcher and Mark Gabriel. After riding four days of fresh powder, Richard called work with the excuse that they were snowed in and extended his stay. For more than a week, they awoke every morning with two new feet of snow. It was their first real experience riding powder and the new obsession wouldn't stop there. Two weeks later Richard quit his job to take some time off and snowboard. He and Tucker had also talked of starting a clothing company during the Tahoe trip but nothing was really finalized. Later that spring, the two came up with the idea of starting a riding company based around the three sports they enjoyed (snowboarding, skateboarding and surfing). With an initial $5,000 from Richard's dad, they started the process. First came the name, then came the stone and Volcom was born.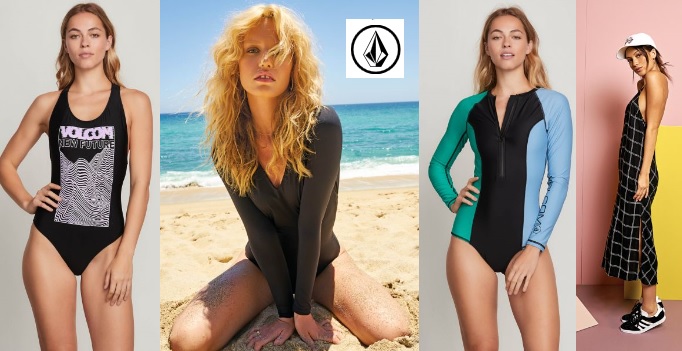 Learn more about the women's Volcom fashion brand.
If you have changed your mind and do not wish to research the brand Volcom, you can use the search engine on this page to find another clothing label that may be of more interest.
When you are ready to research additional fashion brands for women you can try the following pages to find our alphabetical list of women's fashion brands.
Have you seen our Fashion Designer Directory section.
Apparel Search is a leading guide to fashion, style, clothing, glam and all things relevant to apparel. We hope that you find this Volcom page to be helpful.
The clothing that you are wearing today is most definitely in style. You are clearly a trendsetter.

Volcom