Who's the Woman Within®? Any woman you want her to be. Beautiful, confident, important and comfortable as well as impeccably dressed without spending a fortune. The 110 year old brand that recently became Woman Within has the expertise to make all this happen for women who wear sizes 12W & up. What began in 1901 as a humble dress shop called Lane Bryant® has grown into the world's leader in plus size apparel, sensitive to your comfort, style and budget.
Shop for plus size clothing at WomanWithin.com, where you will discover the largest selection of comfortable, colorful and casual plus size clothes in one easy place. This company makes it easy for you to love what you wear!
Shop colorful, casual and comfortable plus size apparel for at a great value, in sizes 12W to 44W or S to 8X. Plus size pants and jeans come in knit, denim, corduroy and khaki and all with stretch for extra comfort. Try a sweater and you'll be cozy in pullover and cardigan styles in no time. They've never been more beautiful or fashionable. We've even got a plus size dress for every occasion, whether you need a shirt dress, a lightweight dress, a casual dress, a maxi dress, or just a sensible skirt.
Buy any plus size bra, panty and girdle perfect for the special needs of full-figured women. If you're in need of a plus size coat or jacket, they will surely have a style perfect for any weather or time of year.
Their plus size swim styles are flattering and affordable and, like their coats, they sell them all year long! If you need a one-piece or two-piece swimsuit, a tankini, a swim shirt, swim dress, swim briefs, or even a swim cover up, they have got you covered.
They also have fashion for an active lifestyle. You will find their active separates and sets are colorful, easy and attractively priced. You can't go wrong with a pair of plus size sweatpants, a sweatshirt, a sports bra, a hoodie, or even a pair of yoga pants from their unique selection.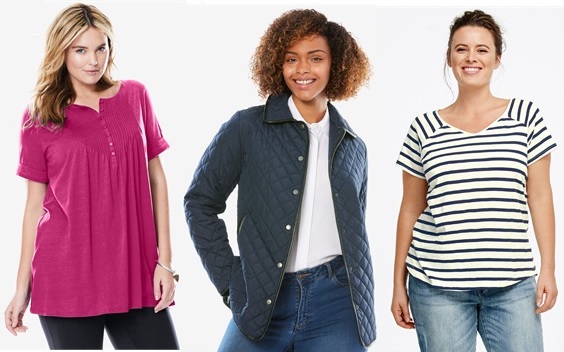 They typically use the softest combed cotton in every pajama, robe, sleep separates and nightgown they produce. In addition to clothing, they also have footwear and accessories. The carry hundreds of shoes including flats, sneakers, sandals, regular and wide calf boots in sizes 7 to 12, in medium, wide and wide wide widths. The truth is WomanWithin's plus size clothing selection simply cannot be beat when it comes variety and affordable prices.
If you have changed your mind and do not wish to research the brand Woman Within, you can use the search engine on this page to find another clothing label that may be of more interest.
When you are ready to research additional fashion brands for women you can try the following pages to find our alphabetical list of women's fashion brands.
Have you seen our Fashion Designer Directory section.
Apparel Search is a leading guide to fashion, style, clothing, glam and all things relevant to apparel. We hope that you find this Woman Within page to be helpful.
The clothing that you are wearing today is most definitely in style. You are clearly a trendsetter.

Woman Within