Welcome to the worlds greatest guide to women's apparel. Are you actually looking for womenswear? Well, we hope you are because the reality is that you have found our women's apparel page. In this women's clothing section of the Apparel Search directory, you will find all sorts of interesting information regarding apparel for women. Including where to shop for it. Although our directory covers all aspects of the fashion industry, we find that discussing women's clothing and women's fashion accessories is more fun then dealing with textile machinery, garment hangers, woven labels etc. Therefore, we have spent a great deal of time developing this section to help you learn about women's apparel.
What do you want to know?
Clothing which is also known as clothes, attire, garments, or apparel is essentially fiber and textile material worn on the body. Fashion is a distinctive and often constant trend in the style in which a person dresses. Fashion trends are influenced by several factors including political, economical, social and technological.
Categories of Interest:
Pants
Blouses
Dresses
Skirts
Wedding Gowns
Hats, Gloves, Mitten's, Scarves
Lingerie
Chemise
Outerwear
Activewear
Sportswear
Athleisure

Physically, clothing serves many purposes: it can serve as protection from the elements, and can enhance safety during hazardous activities such as hiking and cooking. However, according to many fashionistas the most important aspect is how it makes you look. Sure, we understand that food, clothing, and shelter are important for survival, but so it looking good while you survive.
Fashion trend goes beyond the aesthetic values, it emerges as an expressive tool for designers to deliver their message about the society. Equally important to what designs wish to dictate to the market, the world of fashion must consider consumer sentiment. Consumers all have different needs and demands that have to be suited. A person's needs change frequently, which is why fashion trends even exist. An important factor to take into consideration when thinking of consumers' needs is the key demographics of the customer. Gender, age, income, and even profession can help a company better understand the needs of their customers.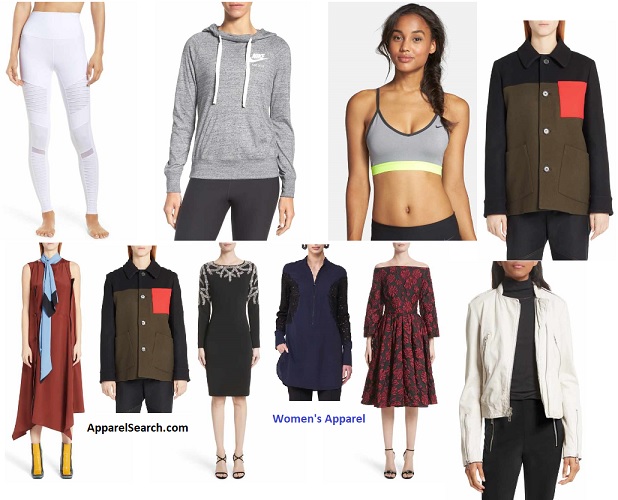 The media plays a significant role when it comes to fashion. For instance, an important part of fashion is fashion journalism. Editorial critique, guidelines, and commentary can be found on television and in magazines, newspapers, fashion websites, social networks, and fashion blogs. In recent years, fashion blogging and YouTube videos have become a major outlet for spreading trends and fashion tips, creating an online culture of sharing one's style on a website or Instagram account. If you utilize any of these resources you will realize the wide range of topics that relate to women's apparel.
Learn more about women's apparel here on Apparel Search.
Women's Clothing Directory Pg. 3
We hope that this guide to women's clothing categories has been helpful for your research. Hopefully you found the fashion styles that you were searching to locate.
Thank you for using the Apparel Search website.