In this women's clothing section of the Apparel Search fashion guide, you will find all sorts of interesting information regarding cheerleading shoes for women.
Go team go! A cheerleader is a member of a team that performs organized cheering, chanting, and dancing in support of a sports team.

A shoe is a covering for the foot, typically made of leather or synthetic, having a sturdy sole and not reaching above the ankle.
Are cheer sneakers the same as other sneakers?
Cheerleader shoes differ from regular athletic shoes. It is true, cheer shoes are different from regular sneakers. From the weight to materials (and much of the other things in between), these are the reasons cheerleaders wear special shoes designed just for this sport.
Own the air from the sideline to the mat in the most innovative styles of cheerleading shoes.
A cheerleader's shoes are an essential part of the cheerleading outfit. Most definitely if you wish to land on your feet. Cheerleading shoes provide support and comfort for game day performances as well as when you are at practices.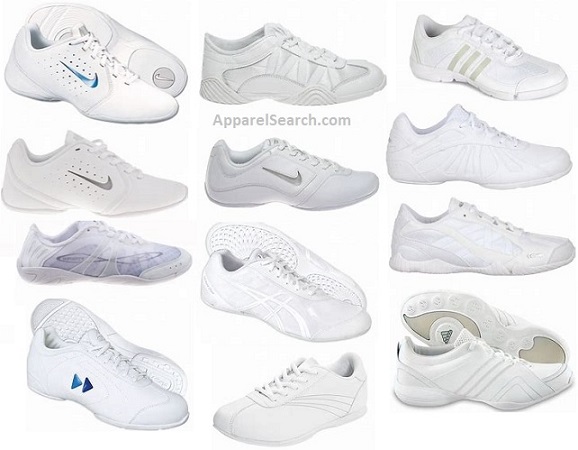 Varsity cheer shoes should be high-performance, hyperlight, and state of the art. Look for good traction and support when selecting your footwear.
Here are a few features to consider.
High quality synthetic upper material minimizes bulk for lightweight performance.
New foam cushioned EVA heel wedge boosts cushioning for longer-lasting support and comfort.
Heel lifts
Thermoplastic heel counter provides comfort and support.
Rubber outsole grips on dismount for stability on impact and reliable traction.
Check with an experience cheerleader shoe retailer regarding what type of shoe features are best.
You can find many cheerleading footwear brands including Nike, adidas, Nfinity Cheer Shoes, Kaepa, Zephz, Asics and more.
Don't forget to also research footwear accessories such as shoe poms.
Be prepared for your squads next sideline dance routine.
Shop all the cheerleading gear you need to ring in a victory.
You may find the following links to be of interest as well.
Apparel Search is a leading guide to fashion, style, clothing, glam and all things relevant to apparel. We hope that you find this Women's Cheerleading Shoes page to be helpful.
What ever you are wearing, is in fashion.
If you want to be even more stylish, you should wear your Women's Cheerleading Shoes.

Thank you for using the Apparel Search website.