Crew socks cover some or all of the ankle, but do not extend over the calf. A short sock that extends above the ankle and is often ribbed.
The ankle, or the talocrural region, is the region where the foot and the leg meet
A sock is an item of clothing worn on the feet and often covering the ankle or some part of the calf. Some type of shoe or boot is typically worn over socks. Socks are manufactured in a variety of lengths. Crew socks are short, thick everyday socks usually ribbed at the top of the ankles.
Cotton is a soft, fluffy staple fiber. The fiber is most often spun into yarn or thread and used to make a soft, breathable textiles. Socks are often made of cotton fiber. They can be 100% cotton or a blend with other fibers.
Ladies cotton crew socks come in a wide variety of colors and patterns.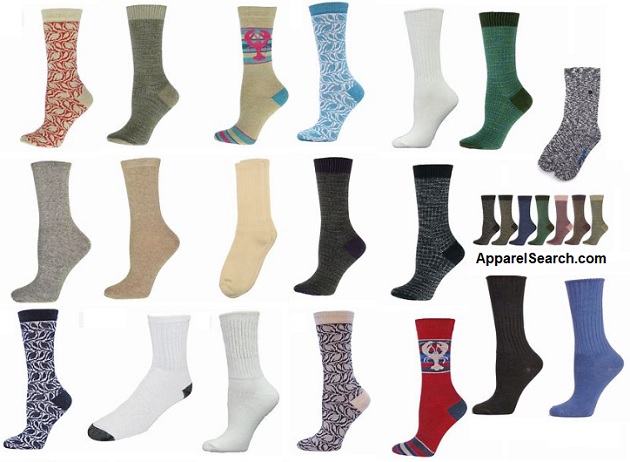 Why is cotton a good choice for socks? Learn the
benefits of cotton
fabric.
Apparel Search is a leading guide to fashion, style, clothing, glam and all things relevant to apparel. We hope that you find this Women's Cotton Crew Socks page to be helpful.
What ever you are wearing, is in fashion.
If you want to be even more stylish, you should wear your Women's Cotton Crew Socks.
You can also search for women's cotton socks or women's silk socks.
Search for a pair of socks by color... black socks, blue socks, brown socks, green socks, orange socks, pink socks, purple socks, red socks, tan socks, white socks, yellow socks.

Thank you for using the Apparel Search website.