Step into style with a cute pair of ladies socks. Whether you're looking for a cheerful novelty accent to your everyday outfit or you are eager to wear a lovely layer of warmth for your legs, you can find what you are looking for in the retail market. If you search your favorite clothing stores, you are sure to find an adorable array of colorful and printed socks for women are just what your toes need.
A sock is an item of clothing worn on the feet and often covering the ankle or some part of the calf. Some type of shoe or boot is typically worn over socks. Socks are manufactured in a variety of lengths, colors, styles, and fabrics.
Adorn your ankles with fun, shorter-style socks for casual days. A business sock is a term for a colored sock for conservative appearance and casual footwear. Business socks are often dark solid colors, however dark solid colors are typically not a specific requirement.
For use in cold environments, thermal socks are thicker. They are commonly worn for skiing, skating, and other winter sports. They not only provide insulation, but greater padding due to their thickness. If you are planning cold weather activities, you may want to read up on the benefits of wool.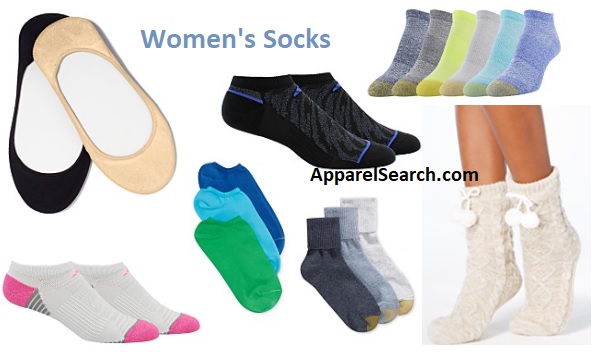 You can also search for Women's cotton socks or Women's silk socks.
Learn about sock sizing.
Search for a pair of socks by color...
You may also want to learn more about other types of women's hosiery.Apparel Search is a leading guide to fashion, style, clothing, glam and all things relevant to apparel. We hope that you find this Women's Socks page to be helpful.
What ever you are wearing, is in fashion.
If you want to be even more stylish, you should wear your favorite Women's Socks.

Have you seen our Fashion Designer Directory section?