In this women's clothing section of the Apparel Search directory, you will find all sorts of interesting information regarding cotton tennis socks for women.
Proper tennis socks are extremely important to tennis players.
Tennis is a racket sport that can be played individually against a single opponent (singles) or between two teams of two players each (doubles). Each player uses a tennis racket that is strung with cord to strike a hollow rubber ball covered with felt over or around a net and into the opponent's court. The sport involves a great deal of footwork. Running back and forth on the court is a critical part of the game. Fast movement and quick stops is a constant aspect of the game. Keeping your feet comfortable is crucial. Obviously the sneakers are important but the socks are as well.
A sock is a garment for the foot and lower part of the leg. Sock lengths vary, from ankle-high to thigh level. They also come in a wide assortment of colors, patterns, and fibers. They are typically knitted from wool, cotton, nylon or other fibers. They often come as blended fibers in addition to 100% options.
Socks can be created from a wide variety of materials, such as cotton, wool, nylon, acrylic, polyester, olefins, or spandex. To get an increased level of softness other materials that might be used during the process can be silk, bamboo, linen, cashmere, or mohair.
Learn the benefits of cotton fabric for clothing.
What are tennis socks? Do you seriously not know the answer to this question. They are socks for playing tennis.
Tennis socks are often made with extra cushioning where you need it for a supportive, locked-in fit during play. When selecting socks for tennis, you would want premium fabrics which help wick away sweat to keep you dry and comfortable on or off the court.
Tennis socks come in a variety of lengths and from numerous popular brands. Some of the brands include Wilson, Nike, Lacoste, adidas, asics, etc.
Regarding the length aspect of the sock, there are three types of socks: low-cut sport, ankle-dress, and knee-length socks. Of course, the low-cut type is for sports, relaxation, very casual dressing, and occasions at which you wear short pants, while the other types are for dressier occasions.
When purchasing socks, you would want to look for features such as moisture management, ultra light, high breathability, extra cushioned, and more.
Everyone wants to feel comfortable and the first thing we need to take care of is the clothing that is actually touching our body directly. Because this sport involves so much running, the fabric that contacts our feet is obviously super important.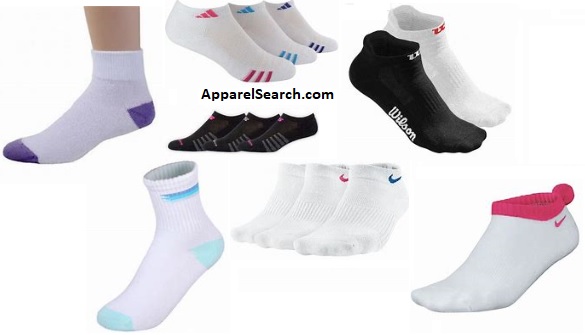 In the market you will find a wide variety of types and technologies like Ultra Tech, Coolmax, ClimaLite, Dri-FIT, ForMotion, and many more.
Below are a few features to consider:
Tennis crew socks
Tennis mini crew socks
Tennis micro-mini crew socks
Cushioned
Mesh Ventilation
Sweat Absorption
Wicking
Fast Drying
Breathable fabric
Style (if you wish to look good on the court)
Performance fabrics
Ergonomics
Dual layers
Tennis socks with pom-poms are supper cool.
You may also want to learn about cotton tennis shirts as well.
Apparel Search is a leading guide to fashion, style, clothing, glam and all things relevant to apparel. We hope that you find this Women's Cotton Tennis Socks page to be helpful.
What ever you are wearing, is in fashion.
You may also want to view the women's hosiery section.
If you want to be even more stylish, you should wear your Women's Cotton Tennis Socks.
Learn about women's cotton fashion.

Thank you for using the Apparel Search website.