In this women's clothing section of the Apparel Search directory, you will find all sorts of interesting information regarding cotton tennis shirts for ladies.
Tennis is a racket sport that can be played individually against a single opponent or between two teams of two players each. Each player uses a tennis racket that is strung with cord to strike a hollow rubber ball covered with felt over or around a net and into the opponent's court. In order to properly swing the racket, it is important to have a good range of motion and be sure to wear a comfortable garment.

A tennis shirt, often referred to in the popular culture as a polo shirt, is a T-shaped shirt with a collar and two buttons; occasionally they also include a pocket. Common fabrics for these shirts include pique cotton, jersey cotton, or pima cotton. In addition to 100% cotton, blended fabrics are appropriate as well. Blending with certain fibers can create added benefit such as additional wicking or stretch.
Many tennis shirts are made of synthetic fabric, which gives comfort you need without staying soaking wet. This is because of the wiking properties. This is one of the reason that synthetic fiber is often blended with cotton.
Learn the many benefits of cotton to learn why it is a popular fiber for athletic apparel.
When playing tennis you will want to wear breathable fabrics.
You may want to visit our polo shirt page to learn more about this type of shirt.
Are printed tennis theme shirts tennis shirts?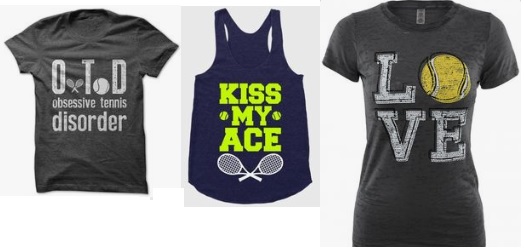 The following tops can be worn to play tennis? Are they tennis shirts?

Many of the popular brands of tennis apparel have added ventilating mesh insets to their garments. These insets allow air to flow through the fabric and allows heat to escape through the fabric away from player's bodies keeping them cooler during practice or matches.
Apparel Search is a leading guide to fashion, style, clothing, glam and all things relevant to apparel. We hope that you find this ladies cotton tennis shirt page to be helpful.
What ever you are wearing, is in fashion.
If you want to be even more stylish, you should wear your favorite tennis top.
You may want to also learn about other types of shirts.

Thank you for using the Apparel Search website.