Welcome to the worlds greatest guide to Women's Cotton Polo Shirts.
What is a polo shirt? A polo shirt is a casual short-sleeved cotton shirt with a collar and several buttons at the neck. Polo shirts are usually made of knitted cloth (rather than woven cloth), usually piqué cotton. They can also be made of silk, wool, synthetic fibers or a blend of the above mentioned. The classic polo is made of cotton. Learn the benefits of cotton fabric.

A shirt is a cloth garment for the upper body. This type of shirt is often interchangeably referenced as a tennis shirt or golf shirt in addition to being called a polo shirt.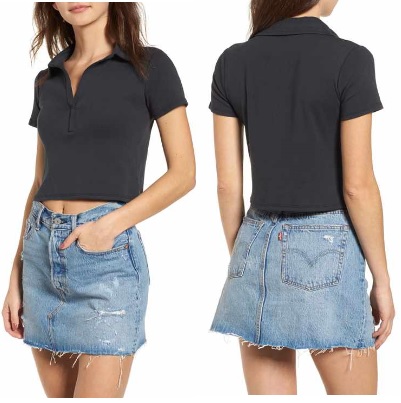 If you were actually looking to learn about the Polo brand which is different than the polo style shirt, you should visit the Ralph Lauren Corporation website. Ralph Lauren Corporation is an American corporation. They are known for the clothing, marketing and distribution of products in four categories: apparel, home, accessories, and fragrances. The Company's brands include Polo Ralph Lauren, Ralph Lauren Collection, Lauren Ralph Lauren, Double RL, Ralph Lauren Childrenswear, Denim & Supply Ralph Lauren, Chaps, and Club Monaco. Ralph Lauren Corporation is an American, publicly traded holding company headquartered in New York City, and founded in 1967 by American fashion designer Ralph Lauren. You can also learn more about Ralph Lauren Corporation here on Apparel Search.
f you were actually looking for the polo brand for women and not just the polo shirt silhouette, you can try the polo womens fashion brand section.

Thank you for using the Apparel Search website.