You may need a bit of stretch in your undies. Cotton is great, but maybe a cotton blend would be nice as well.
First of all, do you know what is meant by a "low rise"? This term is often used in regard to pants. Low-rise is a style of clothing designed to sit low on, or below, the hips. You can learn about the rise in our apparel industry terminology section. In regard to underwear, low-rise underwear sits below the natural waistline on the hips, so they provide just enough fabric to cover you up, and not much more. Low-rise boy shorts are mostly all about style and attitude. They may take you a short while to get used to wearing. Once you are comfortable with the rise, they may quickly become your favorite undergarments. The high-rise cut gives more coverage of your private area if you don't wish to stay with the low-rise option.
The rise is the measurement between the waistband and the first horizontal seam. The industry does not always use exact standards from one manufacturer to the rest. Some say, in regard to panties a low rise a panty has a rise of 7-inches or less. Again, not an exact industry standard.
Do you know what the term boy short means?
Boyshorts offer full coverage in a modern silhouette. Boyshorts are a perfect everyday alternative and offer comfortable coverage under clothing.
Boy shorts or boyshorts are a kind of women's underwear that goes all the way down the hips, named for their similarity in looks to men's knit boxer shorts, which themselves are a variation on traditional boxer shorts. This type of underwear goes by a few different names. They are also known as boy short panties, boys' cut, booty shorts, shorties, or boyleg briefs to name a few. They are possibly also referenced by the name "sexy yet comfortable underwear". This type of undergarment provides a good amount of coverage and comfort.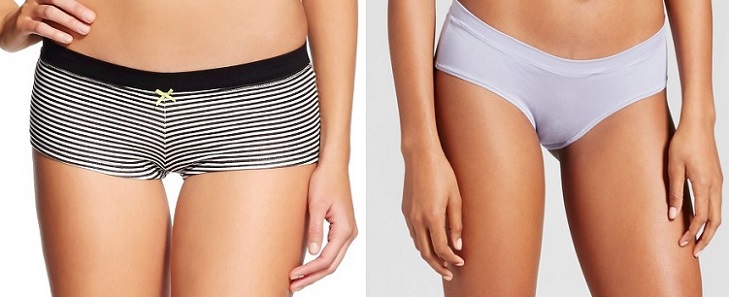 You'll love how the low-rise, hipster design gives you the option to wear a wide variety of looks while offering you a bit more coverage than other styles.
Note: they can provide coverage, but they can also be rather cheeky.
You may want to read up on the fashion influence boy shorts page.
We hope that you have found enough women's cotton fashion to satisfy your needs.. If you are done with this section, you can return to the women's fashion guide for more choices. Or you can continue to learn about women's cotton fashion.

Thank you for using the Apparel Search website.