In this women's clothing section of the Apparel Search directory, you will find all sorts of interesting information regarding Women's Cotton Poplin Sleep Pants.
First of all, what are sleep pants? Well, maybe you should first read about the sleepwear category. After reading that page, you may understand that cotton sleep pants are bottoms worn to sleep. Essentially, they are the bottom section of pajamas (pajama pants) or pants that are sold separately for the purpose of wearing to bed. Sleep pants are generally produced with soft comfortable fabrics.
What is poplin?
Poplin is a plain weave which means the threads alternately cross over and then under each other. This results in a very smooth and durable fabric that has an almost silky hand feel, particularly with higher thread counts. Poplin fabric is often made with cotton fiber. The fabric can be 100% cotton or blended with other fibers. Poplin is woven with yarns of different sizes of yarn in the warp & weft, and that's why it has a distinctive corded effect. Poplin can be made from various fibers including. Cotton is one of the popular options. Learn the benefits of cotton.
Ladies cotton poplin sleep pants come in solid colors, patterns, and various print designs.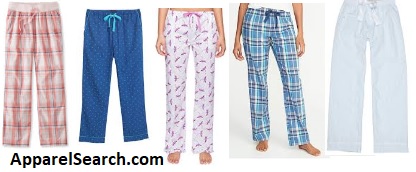 Apparel Search is a leading guide to fashion, style, clothing, glam and all things relevant to apparel. We hope that you find this Women's Cotton Poplin Sleep Pants page to be helpful.
Women's Cotton Poplin Sleep Pants
Women's Cotton Poplin Sleepwear
What ever you are wearing, is in fashion.
Learn about different types of pants.
If you want to be even more stylish, you should wear your Women's Cotton Poplin Sleep Pants.

Return to the Women's Clothes Directory C main page to learn more about clothes categories that start with the letter "C". Yes, cotton starts with the letter "C". Learn more about women's cotton fashion so that you become truly enlightened.
Thank you for using the Apparel Search website.