Are you actually interested in researching cotton poplin tops? Well, we hope you are because the reality is that you have found our women's cotton poplin shirt page.
Cotton poplin fabric is much appreciated all over the world. It feels cool and crisp to the touch, and the organic nature makes it extremely breathable.
A shirt is a garment for the upper body made of cotton or a similar fabric. Shirts often have a collar, sleeves, and buttons down the front. However, those features are not a requirement.
What is poplin fabric?
Poplin is a strong fabric in a plain weave of any fiber or blend, with crosswise ribs that typically give a corded surface. Poplin fabric is often made with cotton fiber. The fabric can be 100% cotton or blended with other fibers. Poplin fabric comes in various weights which are appropriate for shirting fabric.
Tightly woven, it contains fine warp yarns and coarser weft yarns. It is a strong material most often found in shirts, dresses and pajamas.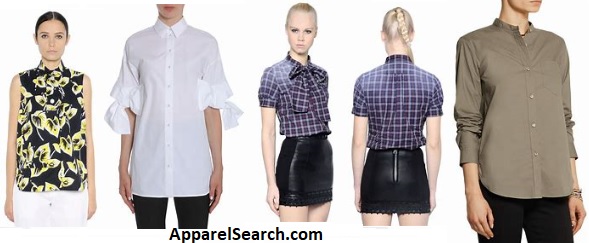 Poplin is a plain weave which means the threads alternately cross over and then under each other. This results in a very smooth and durable fabric that has an almost silky hand feel, particularly with higher thread counts. Poplins look very crisp when ironed.
You will find the cotton poplin shirts come in a wide variety of styles. Many are classic, but you can also find interesting versions such as this Gucci cotton poplin shirt. This cotton poplin tops with a round collar, pleated trim on the front placket and cuffs.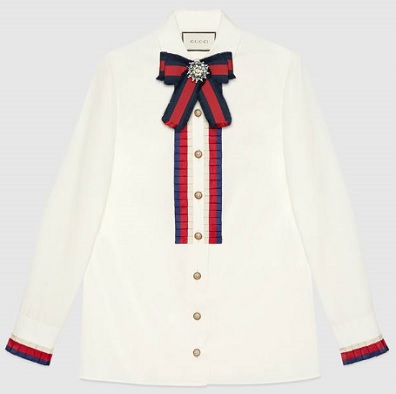 Poplin is sturdy and durable, so shirts made of this fabric are generally easy to maintain and resist creases. Poplin can be bleached, dyed or printed, which makes it ideal for a variety of garments. Natural fibers such as cotton dye very well, giving textile manufacturers a total freedom in creating stunning print and color options for ladies tops. Learn the benefits of cotton so you understand why the fabric is used to make clothing such as blouses, sleep tops, and more.
Poplin is thin, so it is a great fabric for shirts.
Do you know the difference between poplin and broadcloth?
Poplin, twill and broadcloth are among the most popular weaves for shirting fabrics. Unlike poplin, broadcloth is woven with yarns of the same size in the warp and weft. These two fabrics might seem identical, since they are both fine and lightweight. But poplin is woven with yarns of different sizes of yarn in the warp & weft, and that's why it has a distinctive corded effect.
If you are not sure what is mean by the warp & weft, you can check our definitions section to learn about the warp yarn and weft yarn.
You may want to also read about dress shirt fabrics on the fashion blog.
Apparel Search is a leading guide to fashion, style, clothing, glam and all things relevant to apparel. We hope that you find this Women's Cotton Poplin Shirts page to be helpful.
Women's Cotton Poplin Sleep Pants
Women's Cotton Poplin Sleepwear
What ever type of shirt you are wearing today is in style for sure. You are clearly super trendy.
Learn about other types of shirts in our apparel industry terminology section.

It is possible that you would also have interest in reading about dress shirts which can also be made of cotton poplin material.
Thank you for using the Apparel Search website.