Welcome to the worlds greatest guide to Women's Purple Lingerie.
Lingerie is actually a rather broad category that includes women's underwear and nightclothes. This includes bras, light robes, various sleepwear, numerous types of underwear, etc.
Lingerie is a category of women's clothing including at least undergarments, sleepwear and lightweight robes. The specific choice of the word often is motivated by an intention to imply the garments are alluring, fashionable or both. For example, the word "sexy" is often associated with lingerie. Underwear can be lingerie but we don't think of granny panties, when we think of lingerie underwear.
Lingerie includes the following and more:
Brassiere (bras)
Bustier
Camisole
Chemise
Bodysuit
Babydoll
Panties, g-strings, thongs,
Shapewear
Hosiery
Garter
Girdle
Nightshirt
Peignoir
Negligee
Teddy
Tanga
and more.
Purple is a color intermediate between blue and red. It is similar to violet, but unlike violet, which is a spectral color with its own wavelength on the visible spectrum of light, purple is a composite color made by combining red and blue.
Purple was the color worn by Roman magistrates; it became the imperial color worn by the rulers of the Byzantine Empire and the Holy Roman Empire, and later by Roman Catholic bishops. Similarly in Japan, the color is traditionally associated with the Emperor and aristocracy.
According to surveys in Europe and the U.S., purple is the color most often associated with royalty, magic, mystery, and piety.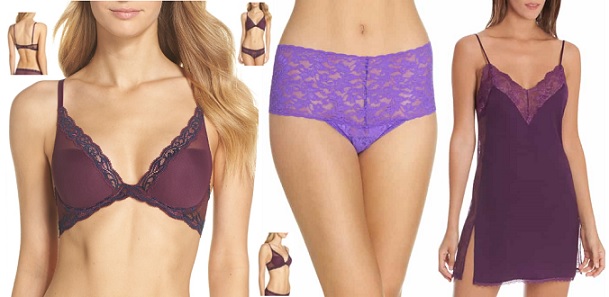 Purple lingerie is appealing for a variety of reasons. Do you have a favorite lingerie color? The color purple is obviously a good choice.
Lingerie is most often made of lightweight, smooth, sheer or decorative fabrics such as silk, satin, Lycra, charmeuse, chiffon or lace. This category of garment comes in a huge assortment of color options. One of which being the color "purple".
The word lingerie is a word taken directly from the French language, meaning undergarments, and used exclusively for more lightweight items of female undergarments.
The concept of lingerie is a visually appealing undergarment that was developed during the late nineteenth century. Lady Duff-Gordon of Lucile was a pioneer in developing lingerie that freed women from more restrictive corsets. During the late 19th century, corsets became smaller, less bulky and more constricting and were gradually supplanted by the brassiere, first patented in the 20th century by Mary Phelps Jacob. In 1935 brassières were updated with padded cups to flatter small breasts and three years later underwire bras were introduced that gave a protruding bustline. As the 20th century progressed, underwear became smaller and more form fitting. In the 1960s, lingerie manufacturers such as Frederick's of Hollywood begin to glamorize lingerie. Since the mid-1990s, women have had more choice in bra sizes; the focus has changed from choosing bras in an average size to wearing bras that actually fit perfectly.
Learn more about lingerie in our products section.
Lingerie Stores - retailers.
Lingerie Wholesalers - distributors.
Lingerie Factories - manufacturers.
Read lingerie blog posts on the Fashion Blog to conduct further research on this topic.
Apparel Search is a leading guide to fashion, style, clothing, glam and all things relevant to apparel. We hope that you find this purple lingerie page to be helpful.
What ever type of under garment you are wearing is in style for sure. If you want to be even more stylish, you should wear your favorite lingerie today.
Check out more women's lingerie and women's intimates.
We hope that you adore purple lingerie as much as we do.

Thank you for using the Apparel Search website.