Welcome to the worlds greatest guide to Women's Purple Shirts.
A shirt is a garment for the upper body. In womenswear they are often called "tops". Women's shirts come in a wide variety of fabrics, silhouettes, and colors. The color purple is one of the many popular options.
The ladies shirt category includes t-shirts, blouses, dress shirts, camisole, polo shirts, sweatshirts, nightshirts, halter tops, tube tops, etc. Learn about different styles from the types of shirts page in our apparel industry terminology section.
In addition to color, this type of garment has several components that can distinguish one style from another. A few of the primary components of a shirt include the sleeves, collars, cuffs, neckline, lower hem, body, pockets, etc.
Tops can be dyed purple or printed with purple. When a shirt is a solid color (the entire shirt is purple) the fabric or garment is usually dyed. If the shirt was printed entirely to become a solid color, it would not have as nice of a soft hand. Dyeing allows for the fabric to maintain a softer hand than pigment printing.
Purple is a color intermediate between blue and red. It is similar to violet, but unlike violet, which is a spectral color with its own wavelength on the visible spectrum of light, purple is a composite color made by combining red and blue.
Purple was the color worn by Roman magistrates; it became the imperial color worn by the rulers of the Byzantine Empire and the Holy Roman Empire, and later by Roman Catholic bishops. Similarly in Japan, the color is traditionally associated with the Emperor and aristocracy.
According to surveys in Europe and the U.S., purple is the color most often associated with royalty, magic, mystery, and piety.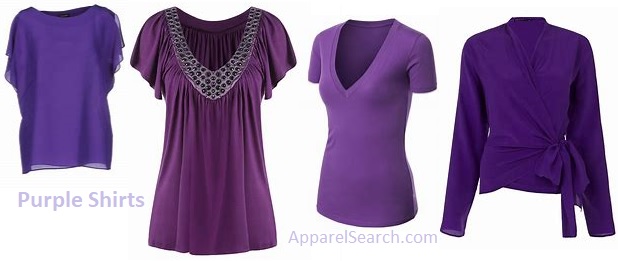 Purple is a lovely option for women's clothing. It is certainly of the popular color choices for ladies tops.
Originally an undergarment worn exclusively by men, it has become, in American English, a catch-all term for a broad variety of upper-body garments and undergarments.
Tops are made from fabric produced out of either natural fiber, man-made fiber or a blend of both. The following are examples.
100% Cotton Shirts = natural fiber
100% Polyester Shirts = man-made fibers
Blended Shirts = 60% Cotton / 40% Polyester
Above are only one example of each category. The industry has numerous fiber options in each of the categories.
Purple shirts can be made of natural fiber, man-made fiber (synthetic fiber) or blends.
Apparel Search is a leading guide to fashion, style, clothing, glam and all things relevant to apparel. We hope that you find this women's purple shirt page to be helpful.
What ever type of shirt you are wearing is certainly in style. If you want to be even more stylish, you should wear your favorite top today.
Check out additional women's shirts and blouses.

You may find interest in the following sections of our website.
Thank you for using the Apparel Search website.