Welcome to the worlds greatest guide to Women's Designer Shirts.
You are most likely already familiar with the term "shirt". Just in case you are not, it is a type of garment for the upper body. It is a cloth garment for the upper body that covers the wearer primarily from the neck to the waist. It does not necessarily provide full coverage. The coverage depends on the style of shirt. Yes, their is a very wide variety of options. You can find designer shirts from cotton tank tops to luxurious dress shirts made from the finest of silks.
Many terms are used to describe and differentiate types of shirts (and upper-body garments in general) and their construction. In the womenswear market you may hear terms such as "tops", "shirts", and "blouses". Each has differences. A shirt is a type of top. A blouse is a type of shirt.
A women's top would include shirts as well as sweaters and possibly jackets.
A shirt has many different varieties. For example, ringer t-shirts, dress shirts, camp shirts, camisole, Polo shirt, Henley shirt, etc.
Learn about different types of shirts in our terminology section.
A blouse is a loose-fitting upper garment that was formerly worn by workmen, peasants, artists, women, and children. It is typically gathered at the waist or hips (by a waistband, tight hem, pleats, pearter or belt) so that it hangs loosely ("blouses") over the wearer's body. Today, the word most commonly refers to a girl's or woman's dress shirt.
Designer shirts can be manufactured from a wide variety of fabrics from cotton to cashmere and every fabric in between.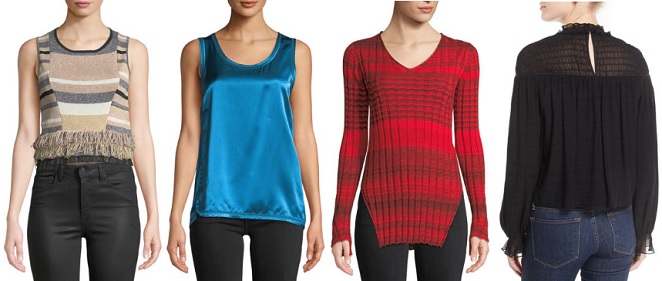 You may be interested in learn about the different types of t-shirts.
Top off your look with the women's designer shirts from the best brands and designers from around the globe. Head to your favorite boutique, mall or simply shop online. Shop women's clothing styles from designer brands & contemporary labels.
Apparel Search is a leading guide to fashion, style, clothing, glam and all things relevant to apparel. We hope that you find this women's designer shirt page to be helpful.
What ever style of top you are wearing is in fashion.
If you want to be even more stylish, you should wear your favorite designer shirt.

Thank you for using the Apparel Search website.