Welcome to the worlds absolute greatest guide to women's dress pants.
Dress to impress with women's dress pants. Dress slacks are essential for your formal wardrobe. You will find many retailers that offer different styles and types such as flat-front dress pants and pleated dress pants. You can also find product manufactured from a wide selection of fabric choices. You can almost always find a huge assortment of fabric constructions, colors, patterns, and silhouettes that are appropriate for formal settings.
Are you ready for your next business luncheon?
Certain businesses or special events have a particular dress code.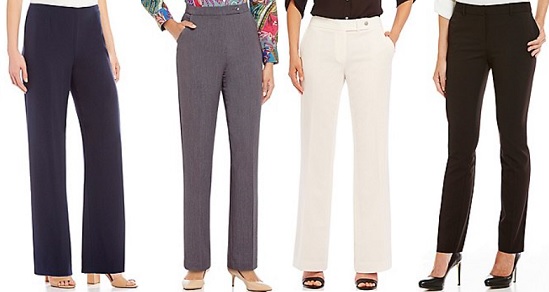 Are dress pants the same as suit pants?
Well, not exactly. They certainly can be part of a suit, but they don't have to be the bottom section of a suit. Suit trousers, also known as dress pants in the US, are a style of trousers intended as formal or semi-formal wear. They are often made of either wool or polyester (although many other synthetic and natural textiles are used) and may be designed to be worn with a matching suit jacket. Suit trousers often have a crease in the front of each pant leg, and may have one or more pleats. Suit trousers can be worn at many formal and semi-formal occasions combined with a shirt that has no tie and a more relaxed fashion, which can be considered smart casual dress. A women's suit pant is a type of dress pant. But not all dress pants need to be part of a suit.
Learn about Altering the Waist of Women's Pants.
Learn about different types of pants.
You may also want to learn about alter wide leg pants to skinny leg pants.
Apparel Search is a leading guide to fashion, style, clothing, glam and all things relevant to apparel. We hope that you find this ladies dress pant page to be helpful.
What ever you are wearing, is in fashion. If you want to be even more stylish, you should wear your favorite women's dress pants today.
If you need a new pair, you should certainly spend some time shopping at your favorite retailer. Here are a few suggestions on where you can find fantastic business attire.
Nordstrom - Shop online for shoes, clothing, jewelry, dresses, makeup and more from top brands.
Lord & Taylor - Shop Lord and Taylor online for designer clothing, shoes, handbags & accessories for fabulously trendy women.
Neiman Marcus - Shop the latest styles from top designers including Michael Kors, Tory Burch, Burberry, Christian Louboutin, kate spade & more.
Bloomingdales - shop the top fashion brands from the worlds most famous designers. Looking for luxury, look no further.
Dillards - From casual and dress to printed and cropped pants Dillard's women's pant collection has it all.
If you are a fashion designer and need help producing dress pants for your next collection, you may want to search in our pant factory section for manufacturers.
Now that you have learned so much about this type of pant, you may want to learn about other clothing categories. Fortunately, we have an easy way for you to conduct research. It is actually quit simple. You can use the links below to investigate clothes from the alphabetical directory.
Obviously you look good in dress pants, chinos, khakis, and more. What ever you plan on wearing today is perfectly fine with us.

Thank you for using the Apparel Search website.