Is a women's dress shirt a blouse?
Traditionally dress shirts were worn by men and boys, whereas women and girls often wore blouses or, sometimes, known as chemises. However, in the mid-1800s, they also became an item of women's clothing and are worn by both sexes today.
Originally a blouse was a loose-fitting upper garment that was formerly worn by workmen, peasants, artists, women, and children. It is typically gathered at the waist or hips (by a waistband, tight hem, pleats, pearter or belt) so that it hangs loosely ("blouses") over the wearer's body. Today, the word most commonly refers to a girl's or woman's dress shirt.
A dress shirt, button shirt, button-front, button-front shirt, or button-up shirt is a garment with a collar and a full-length opening at the front, which is fastened using buttons or shirt studs. A button-down or button-up shirt is a dress shirt which has a button-down collar – a collar having the ends fastened to the shirt with buttons.
A ladies dress shirt is typically worn to an office setting or smart casual occasion. A dress shirt can provide a classy and polished look.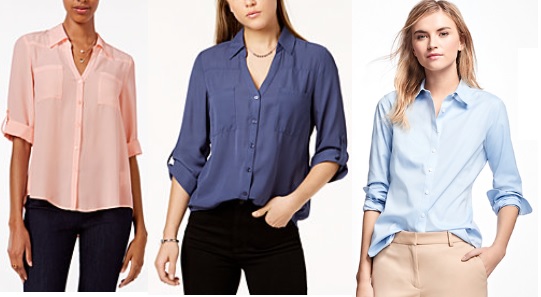 Learn more about dress shirts in our new fashion influencer section.
Learn about dress shirt fabrics on our blog.
Learn about different shirt styles from our clothing industry terminology section. It would also be a good idea to gain an understanding of made-to-measure and bespoke options.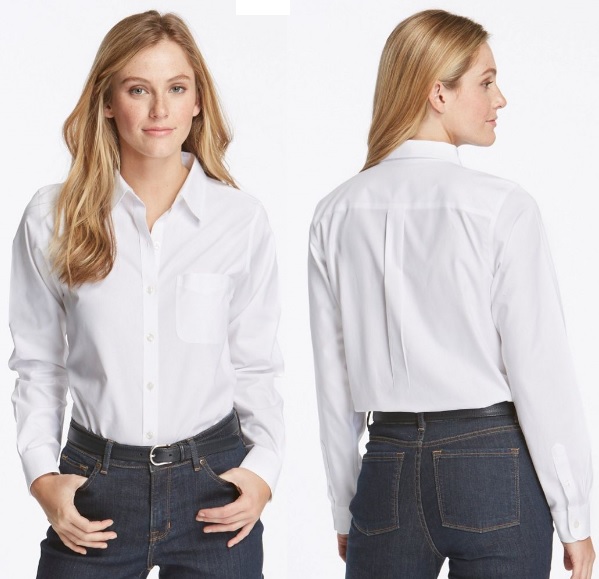 Apparel Search is a leading guide to fashion, style, clothing, glam and all things relevant to apparel. We hope that you find this women's dress shirt page to be helpful.
Learn about different shirt styles and more importantly learn more about dress shirts.

You can shop for ladies dress shirts at fine retailers such as Nordstrom, Brooks Brothers, LL Bean and others.
Thank you for using the Apparel Search website.