We hope that you are eager and ready to learn about dress shirts for women that are made from cotton fabrics.
What are dress shirts?
Dress shirts are normally made from woven cloth, and are often accompanied by a jacket, collar sleeve, and tie. However, they do not have to be worn with a jacket or tie. They are often manufactured with cotton or cotton blend fabrics.
A dress shirt, button shirt, button-front, button-front shirt, or button-up shirt is a garment with a collar and a full-length opening at the front, which is fastened using buttons or shirt studs. A button-down or button-up shirt is a dress shirt which has a button-down collar.
A button down collar is a collar having the ends fastened to the shirt with buttons.
Although this type of garment is often worn for a business setting, they can also be worn casually.
Dress shirts have a wide variety of collar & cuff options. For example, collars can be spread collars, point collars, button down collars, etc. The cuffs can be barrel cuffs, single cuffs, or French cuffs.
Dress shirt fabrics have various options in addition to the fiber content. yarns from these fibers are woven into a variety of different weaves, the most notable of which include broadcloth, with double the number of warp to weft threads, giving a smooth, formal shirting; twill, where the tucks of the weft do not line up, giving a diagonal pattern, a weave used for most country checked (e.g. Tattersall) shirtings; poplin, with a heavier warp than weft, giving more formal fabric; and Oxford weaves. Plain Oxford or pinpoint Oxford weaves are popular as casual fabrics, so are generally used in combination with a button-down collar, while royal Oxford is versatile enough to be used on both sporty and formal shirts. There are many other weaves or variations on these, including end-on-end patterns, where alternate white and colored threads are used, giving a mottled appearance, or more exotic weaves, including voile and batiste, which are extremely light fabrics only used for summer shirts or on the unseen parts of formal shirts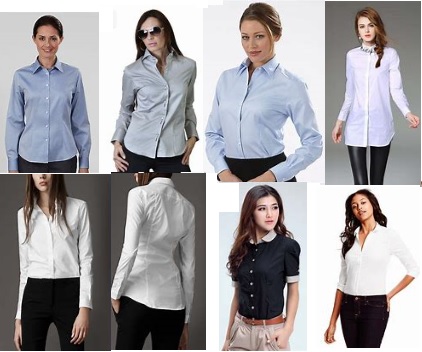 This type of garment can come in long or sort sleeve. It is also possible to wear long sleeves and roll them up.
Ladies dress shirts are often made of cotton for many reasons. Cotton has many benefits. Learn about the benefits of cotton on the Fashion Blog.
Do you know the difference between made-to-measure and bespoke clothing? Knowing the difference between made-to-measure and bespoke clothing may come in handy when you are shopping for well fitting dress shirts.
You may also want to learn about cotton blouses.

Thank you for using the Apparel Search website.