Apparel Search is a leading guide to fashion, style, clothing, glam and all things relevant to apparel. We hope that you find this Women's Golf Apparel page to be helpful.
Golf is a game played on a large open-air course, in which a small hard ball is struck with a club into a series of small holes in the ground, the object being to use the fewest possible strokes to complete the course. Women's golf apparel is clothing worn while playing the sport of golf.
Women's golf clothing with UV protection and golf hats shield you from the sun's harmful UV rays. Keep sweat from getting in your eyes with a golf visor, and wear wristbands to keep your hands from slipping on your grip. Women's golf apparel should provide breathable comfort and stretch every time you visit the golf course.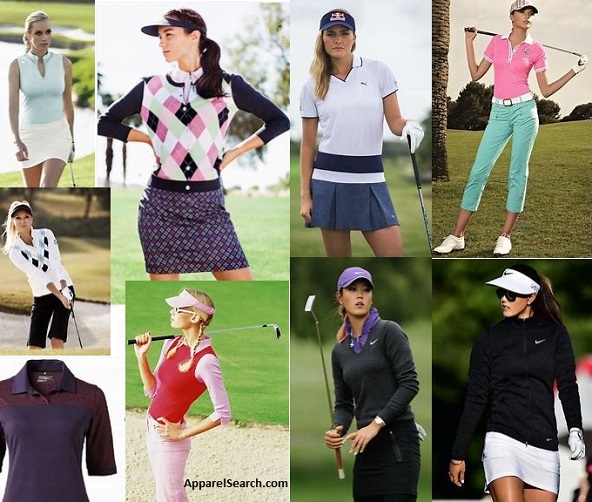 Golf in the early days, circa the 17th century, was played in clothing designed to keep players warm and dry in the damp, windy weather of Scotland. The garments have clearly advanced over the years.
You can also search for Women's golf shoes , golf gloves and Women's golf shorts.
Think fresh prints and hues, flattering silhouettes and technical fabrics that play as hard as you do. When selecting your apparel, find trendy golf outfits that can translate from the course to the clubhouse.
Learn about women's golf shirts.
What ever type of golf apparel you are wearing, we wish you the best of luck with you swing.

If you want to be even more stylish, you should wear your Women's Golf Apparel.
Have you seen our Fashion Designer Directory section?