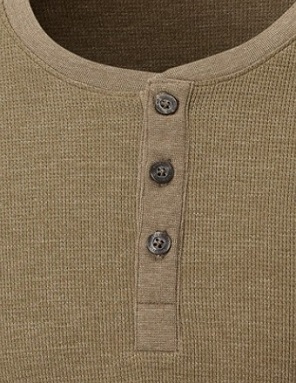 A women's henley shirt is a collarless casual wear pullover shirt, characterized by an approximate 10 cm to 15 cm (4-6") long placket beneath the round neckline, usually having 2-5 buttons. It essentially resembles a collarless polo shirt.
The sleeves may be either short or long sleeve, and it can be made in almost any fabric, although cotton, cotton-polyester blends, and thermals are by far the most popular.
A ladies Henley top always has the placket and buttons and no collar, but they do come in a wide variety of styles. Below are a few of the styling options.

Apparel Search is a leading guide to fashion, style, clothing, glam and all things relevant to apparel. We hope that you find this Women's Henley Shirts page to be helpful.
What ever you are wearing, is in fashion.
If you want to be even more stylish, you should wear your Women's Henley Shirts.