Apparel Search is a leading guide to fashion, style, clothing, glam and all things relevant to apparel. We hope that you find this Holiday Dress page to be helpful.
What is a holiday? A holiday is a day of festivity or recreation when no work is done. People often spend a holiday in a special place or special way. Depending on the holiday, you may want to wear a special dress.
Some of the most popular holidays include Christmas, Thanksgiving, New Year's Eve, etc. In the United States, when we mention the holiday season, it is typically the time of year around Christmas, Hanukkah, and New Year's.
Whether you're heading to an office holiday party, a family affair, or a night out with friends, most women like to have a lovely holiday dress in their wardrobe for the occasion. Women's holiday dresses are made for turning heads. There are plenty of festive dresses for women and juniors perfect for those cant-miss holiday occasions.
For an attention grabbing look you can find a wide assortment of dress colors from blue to gold to red and beyond. Holiday dresses can be in virtually any color. You will find many women's holiday dress collections that will help you light up any party.
Holiday dresses come in a wide variety of fabric & style choices.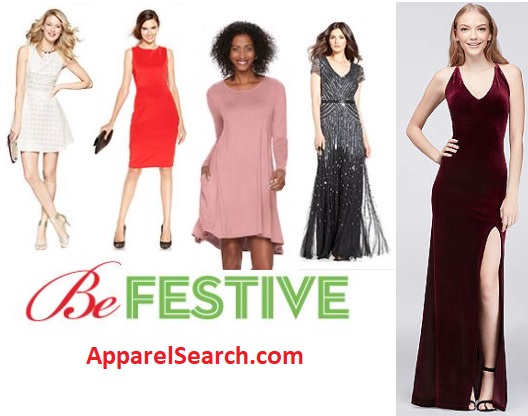 If your holiday dress is for Christmas, the color red & green is always a popular & festive choice.
Learn about holiday party dresses in our fashion influence section.
Visit the holiday fashion shop in our shopping section.
What ever color or style of dress you are wearing is in style. You may want to research green dresses and red dresses. If you want to be even more stylish, you should wear your favorite holiday dress this year.
Learn about women's holiday fashion sales.

Have you seen our Fashion Designer Directory section?