Apparel Search is a leading guide to fashion, style, clothing, glam and all things relevant to apparel. We hope that you find this Jumper Dress page to be helpful.
What is a jumper dress? A jumper or jumper dress is a sleeveless, collarless dress intended to be worn over a blouse, shirt, T-shirt or sweater. In British English a jumper dress can be referenced as a pinafore dress or informally pinafore.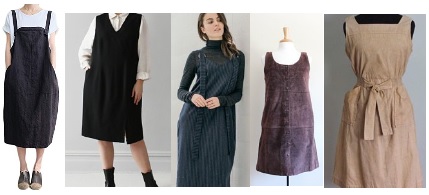 A dress is a garment consisting of a skirt with an attached bodice (or a matching bodice giving the effect of a one-piece garment). It consists of a top piece that covers the torso and hangs down over the legs.
The hemlines of a women's jumper dress can be of different lengths.
The hemline is the line formed by the lower edge of a garment, such as a skirt, dress or coat, measured from the floor. The hemline is perhaps the most variable style line in fashion, changing shape and ranging in height from hip-high to floor-length.
The type of collar and whether or not there is pleating are also variables in the design. A jumper can come in a wide variety of fabrics or colors.
This type of dress is typically super comfy and very roomy.
In British English, the term jumper describes what is called a sweater in American English.
What ever you are wearing, is in fashion.

If you want to be even more stylish, you should wear your Jumper Dress.
Have you seen our Fashion Designer Directory section?