Apparel Search is a leading guide to fashion, style, clothing, glam and all things relevant to apparel. We hope that you find this Women's Leather Vests page to be helpful.
A women's vest is a garment worn on the upper part of the body and has no sleeves. Typically, a sleeveless & close-fitting waist-length garment worn over a shirt, often having no collar and buttoning down the front. However, they don't have to have colors nor buttons. Vests can also have zippers, and other styling options. Ladies vests can be manufactured in a wide variety of materials. Leather being one of the options.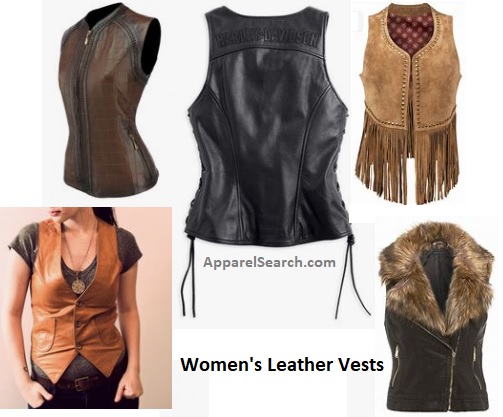 Leather is a material made from the skin of an animal by tanning or a similar process. Learn about the various types of leather grain that can be used for women's vests.
Leather is a natural durable and flexible material created by tanning animal rawhides and skins.

If you want to be even more stylish, you should wear your favorite ladies leather vest today.