Apparel Search is a leading guide to fashion, style, clothing, glam and all things relevant to apparel. We hope that you find this Muumuu Dress page to be helpful.
What is a Muumuu dress? A muumuu dress is a woman's loose, brightly colored dress. The garment hangs from the shoulders. This style of dress was traditionally worn in Hawaii. The style has been exported to other regions as well.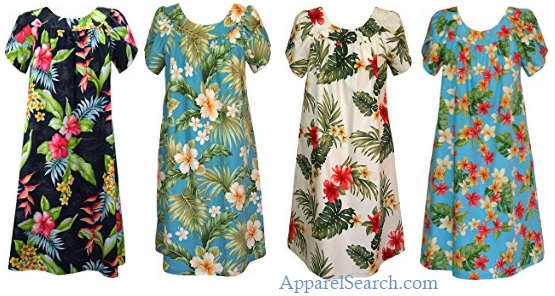 Like the aloha shirt, muumuu exports are often brilliantly colored with floral patterns of generic Polynesian motifs.
Muumuus for local Hawaiian residents are more subdued in tone. Muumuus are no longer as widely worn at work as the aloha shirt, but continue to be the preferred formal dress for weddings and festivals such as the Merrie Monarch hula competition.
Muumuus are also popular as maternity wear because they do not restrict the waist.
The word muʻumuʻu means "cut off" in Hawaiian, because the dress originally lacked a yoke. Originally it was a shorter, informal version of the more formal holokū. Holokū was the original name for the Mother Hubbard dress introduced by Protestant missionaries to Hawaii in the 1820s. The holokū featured long sleeves and a floor-length unfitted dress falling from a high-necked yoke. Over the years, the holokū approximated more closely to European and American fashions. It might have a fitted waist, and even a train for evening. As the holokū became more elaborate, the muumuu, a shortened version, became popular for informal wear.
What ever you are wearing, is in fashion. If you want to be even more stylish, you should wear your favorite favorite Muumuu Dress.