Apparel Search is a leading guide to fashion, style, clothing, glam and all things relevant to apparel. We hope that you find this Women's Obama T-shirts page to be helpful.

Barack Hussein Obama II is an American attorney and politician who served as the 44th president of the United States from 2009 to 2017. A member of the Democratic Party, he was the first African American to be elected to the presidency. He previously served as a U.S. senator from Illinois from 2005 to 2008.

When he was running for president, Obama tees had been very popular.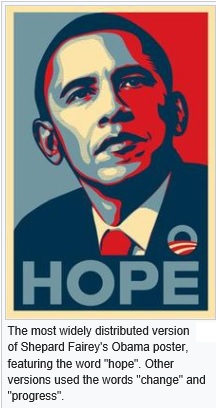 Barack Obama "Hope" poster is an image of Barack Obama designed by artist Shepard Fairey, which was widely described as iconic and came to represent his 2008 presidential campaign. It consists of a stylized stencil portrait of Obama in solid red, beige and (light and dark) blue, with the word "progress", "hope" or "change" below (and other words in some versions). This popular image had also been utilized on t-shirts.
What ever style of graphic tee you are wearing, is in fashion.
Learn more about Barack Obama.
If you want to be even more stylish, you should wear your favorite Women's Obama T-shirts.
Learn about novelty t-shirts and funny t-shirts.