Are you researching Women's Plaid Lounge Pants? Well, we hope you are because the reality is that you have found our page on the topic. In this women's clothing section of the Apparel Search directory, you will find all sorts of interesting information regarding plaid lounge pants for women.
What are lounge pants?
A pant is an item of clothing worn from the waist to the ankles, covering both legs separately. Lounge pants are a type of pant that would be casual in style. They fall into the category of loungewear. Loungewear is typically comfortable, casual clothing suitable for wearing at home.
Learn more about lounge pants in our fashion products section.
Learn more about women's lounge pants.
What is plaid?
Plaid is a type of pattern often used with clothing fabrics. Plaid is checkered or tartan twilled cloth, typically made of wool but can also be made of cotton fiber and other fibers. When used for lounge pants, they are offen cotton or cotton blends.
Learn more about plaid fabric.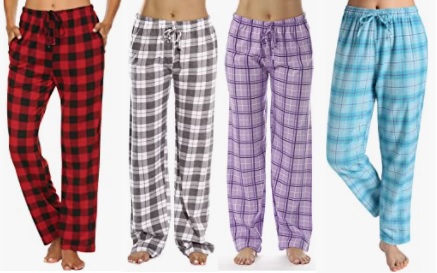 Probably a good idea to also learn about flannel fabric which is often used for loungewear and often produced with fabulous plaid patterns.
You may want to also research women's flannel plaid sleep pants which are very similar to lounge pants.
You may find the following categories of our website to be of possible interest.

Apparel Search is a leading guide to fashion, style, clothing, glam and all things relevant to apparel. We hope that you find this Women's Plaid Lounge Pants page to be helpful.
What ever you are wearing, is in fashion.
If you want to be even more stylish, you should wear your favorite Women's Plaid Lounge Pants.
Women's Clothes Directory:

Women's Apparel Directory N