Welcome to the worlds greatest guide to Women's Slide Sandals. Are you actually looking for Women's Slide Sandals? Well, we hope you are because the reality is that you have found our Women's Slide Sandals page.
As a reminder, a women's sandal is a light shoe with either an openwork upper or straps attaching the sole to the foot.
Slides are a type of footwear sold in the women's, men's and kids market. They are backless and open-toed. They are essentially an open-toed flip flop mule. Slides can be high-heeled, flat-heeled or somewhere in between. They may cover nearly the entire foot from ankle to toe.
They usually include a single strap or a sequence of straps across the toes and the lower half of the foot to hold the shoe on the foot. They may have only one or two narrow straps or other variations.
Slide sandals are fabulous for many reasons. Simplicity & comfort is certainly a fine attribute.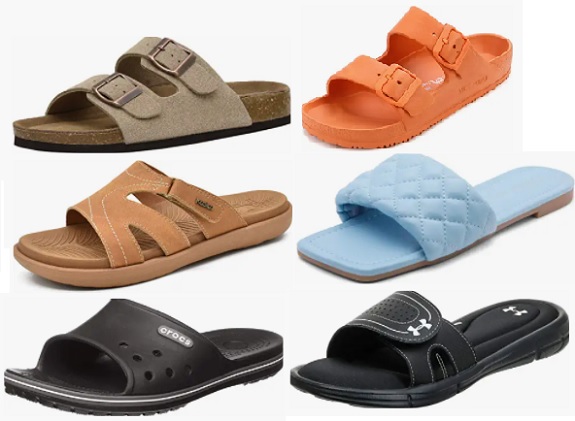 Ladies slides come in a wide variety of fabrications & color options. Some are leather, synthetic, etc.
In addition they have a variety of closing options such as buckles, Velcro, etc. Easy adjustable straps add to the convenience. Anatomical contours provide additional cushioning. If you are wearing your slides in wet environments be sure to find a pair with good traction.
If you enjoy ladies footwear, you may wish to check the following fabulous shoe categories.
What ever you are wearing on your feet, is in fashion. If you want to be even more stylish, you should wear your favorite sandal slides today.

Apparel Search is a leading guide to fashion, style, clothing, glam and all things relevant to apparel. We hope that you find this Women's Slide Sandals page to be helpful.