Welcome to our guide to Women's Training Shoes. Are you actually looking to learn more about the subject? Well, we hope you are because the reality is that you have found our ladies training shoe page. In this section of the Apparel Search directory, you will find all sorts of interesting information regarding training shoes for ladies.
A training shoe is a type of women's sneaker primarily intended for athletic training & exercise. They are a soft shoe designed for athletics.
In our opinion, they fall into the sneaker category, but are they the same as a sneaker?
Sneakers are often worn for sport but they are also worn for fashion. They are commonly used as part of one's attire to show off a particular sense of style. Trainers are more commonly purchased for specific activity, such as going to the gym, running, aerobics class, etc.
Women's training shoes are a type of shoe that is also references as trainers.
Trainers are athletic shoes worn to train for a variety of sports activities. A particular type of sport may require different trainer characteristics. For example, some shoes may require a sturdy fit with strong ankle support while others may require a softer flexible shoe for better mobility.
This type of shoe is geared toward improving athletic performance.
Learn more about Women's Athletic Shoes.
Popular training shoe brands include Nike, Adidas, Reebok, New Balance, Under Armour, etc.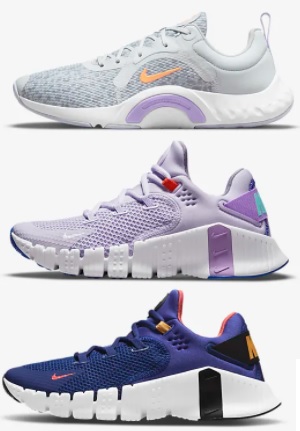 Apparel Search is a leading guide to fashion, style, clothing, glam and all things relevant to apparel. We hope that you find this Women's Training Shoes page to be helpful.