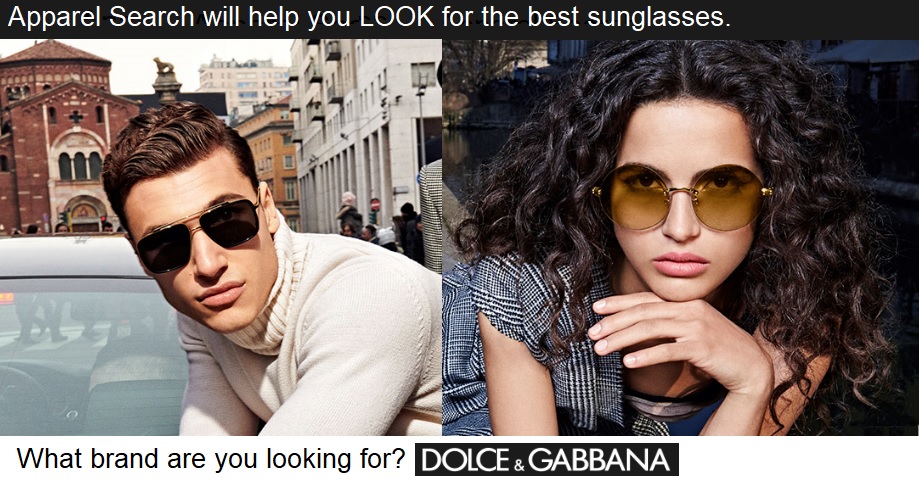 Summer might get all the sunglass hype, but a good pair of shades will provide you fabulous support year round. The reality is that a fab pair of shades are really necessary during every season of the year. Whether you're getting blinded by sun bouncing off snow or headed to a beach weekend, there's always a place for shades on your face.
Sunglasses can make or break a look. Choose well. Having a trust worthy pair of sunglasses will always come in handy.
When you shop, are you most concerned about style, comfort, cost, or brand?
Best Sunglass Shapes & Styles
Wayfarer
This style was first manufactured by Ray-Ban in the 1950's. The Wayfarer frames are trapezoidal in shape. This type of sunglass is often considered as the best selling style of all time. Unfortunately, we have no way to prove this. Ray-Ban Original Wayfarer Classics are the most recognizable style in the history of sunglasses. Since its initial design in 1952, Wayfarer Classics gained popularity among celebrities, musicians, artists and those with an impeccable fashion sense.

After the original, the Wayfarer family has expanded over the years.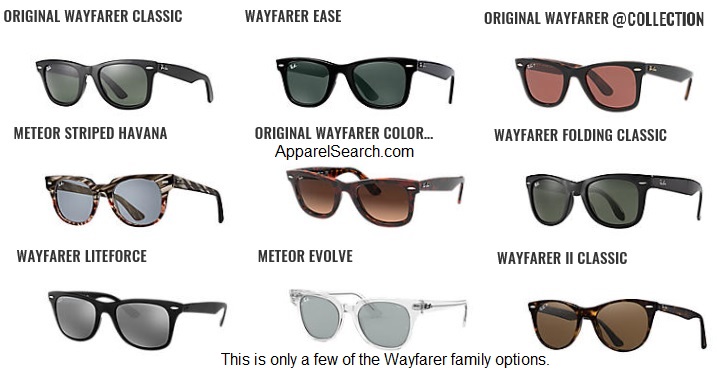 Sunglass Frame Styles
Aviator
This style originated in the 1930's and, as the name suggests, they were made for pilots. The most distinctive features of aviator sunglasses are their thin wire frames and a double bridge. Dark lenses which are usually two to three times the size of the eye socket are also a key feature that prevents too much light from entering the eyes whilst providing peripheral views. The aviator style was originally developed by Ray-Ban, and now the lenses come in classic, square and teardrop shape. Feeling classic today, you may want to go with Aviator Sunglasses.

Browline Frames - this style gained its name due to the way they mimic how the eyebrows frame the face. This style was hugely popular in the 1950's and 60's, making them a classic yet slightly retro option. The Clubmaster sunglasses from Ray-ban have a bold plastic upper which accentuates the eyebrow line. Inspired by the 50's, Ray-Ban Clubmaster sunglasses are both vintage and timeless with a sleek design perfect for cultural intellectuals.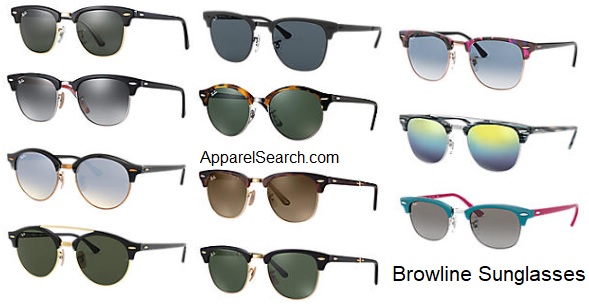 Browbar Frames / Double Bridge - The addition of a second brow bar that rides along your eyebrows. This is a spin-off of the brow bars present on most aviator frames, but the frames in this category vary in shape, size, and material.

Round Frame - Although round frames are often considered retro, they are often modern as they come in and out of style. The lenses are always round but the frames have options of being small, large, skinny, thick, plastic, metal, etc. Round sunglasses are often a hot style, and you will find many eyewear retailers offering plenty of round frame styles, including the perfect circle sunglasses you've been eyeing.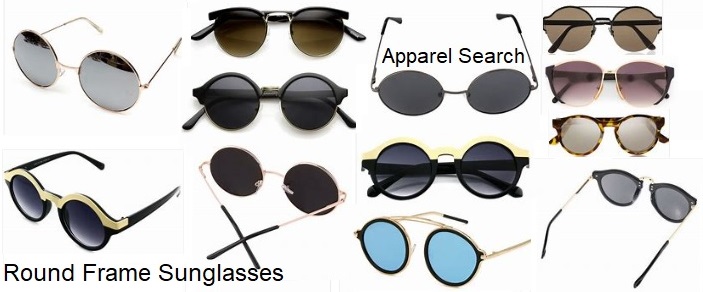 Retro Square Frames - this type of is identified by a thick frame and square lens shape. Retro square sunglasses are classic but can also be modern. Retro square shades are versatile and look great on the adventerous. You can find an assortment of stylish retro square shades in plastic, metal, and mixed material frame options.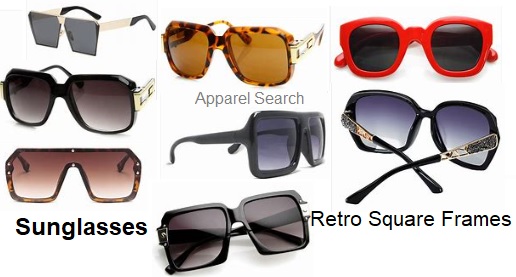 Sport Frames - Find the perfect pair of sports frame sunglasses for biking, baseball, running, golf, fishing, beach volleyball and other sport activities. Sunglasses add a layer of protection to our eyes which will keep you covered from workout to a race. While style is important, a sports person can't neglect the importance of quality sunglasses. Sports Sunglasses are essentially very important for athletes, bike riders, cyclists, swimmers and more. Be ready for all of your outdoor sports activities. Everyone should have a pair of fitness-ready sunglasses (if you are not doing fitness currently, you should be).

Cat Eye Frames - you can have wear regular cat eyes or oversized cat eyes. Cat eye sunglass frames are characterized by rounded frames that flare out near the temples. Cat eye glasses frames became popular in the 1950s and 1960s but still have a loyal following with people with a retro style. Cat eye-shaped frames tend to be playful while also stylish. Named after their resemblance to the shape of a cat's eye, cat eye glasses are probably the most popular style of vintage eyeglasses. The Cat Eye shape comes in and out of style and often makes a resurgence even when not expected. Some eyewear designers add a hint of cat eye by upturning the upper corners of the frame, and increasing the lens shape in the top of the lens relative to the bottom.

Square Frames - A square is a plane figure with four equal straight sides and four right angles. Square eyewear is characterized by angular frames that are equally wide and tall.

Keyhole Bridge Frames - Keyhole Bridge Glasses Frames Keyhole Bridge is shaped like a keyhole and rests on the side of the nose. The keyhole design touches two sharp points of the nose bridge eliminating pressure from the top of the nose. This style makes a bold fashion statement suitable for both men and women.

Movies & People that Popularized Sunglasses
Rebel Without a Cause & James Dean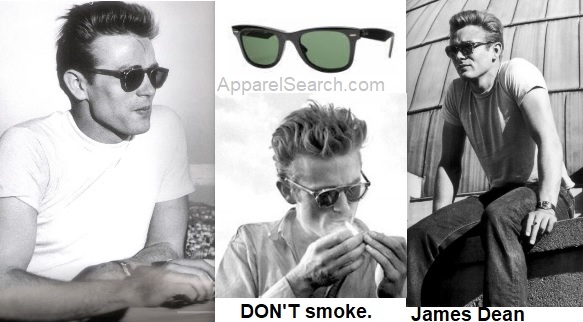 James Bond - Sean Connery (and others).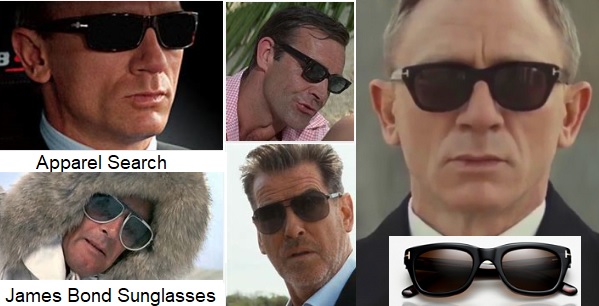 The Thomas Crown Affair - Steve McQueen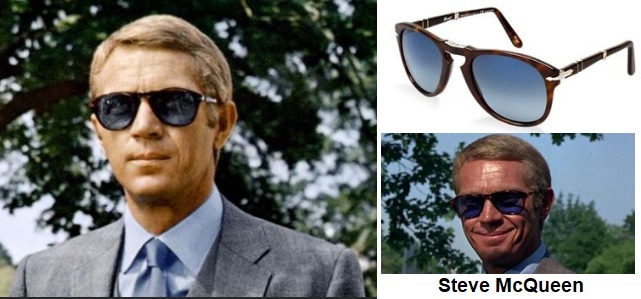 Risky Business - Tom Cruise : Tom Cruise's wearing of Wayfarers in the 1983 movie Risky Business was one of the key placements for Ray-Ban sunglasses, and that year it was reported that 360,000 pairs of Wayfarers were sold.

Tom Cruise in Top Gun was also hugely influential for fashion eyewear.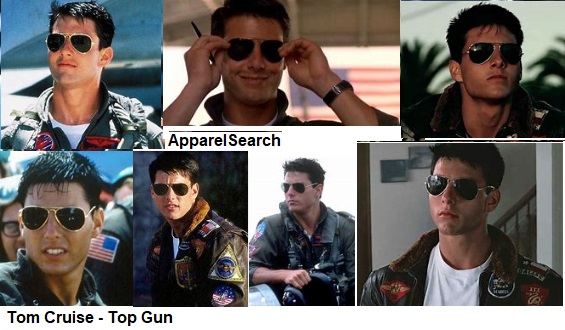 Dirty Harry - Clint Eastwood : The Ray Ban Balorama sunglasses were created by the design team at Bausch and Lomb. Although better known today for their eye health products, Bausch and Lomb were the original creators of the Ray Ban brand. As Dirty Harry worked for California's San Francisco Police Department, sunglasses were always going to be an essential part of his image. Although Dirty Harry wore a number of different sunglasses in the movies, none caught the public's imagination more than the Ray Ban Balorama's he wore in Magnum Force.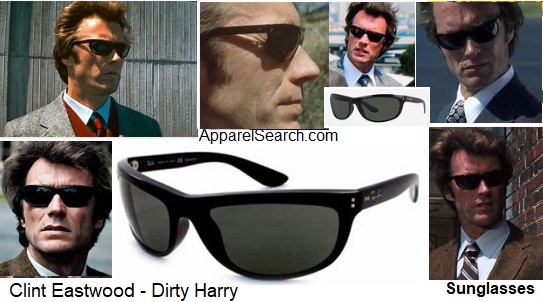 Taxi Driver - Robert De Niro

Reservoir Dogs - several great actors : Reservoir Dogs is a 1992 American heist film written and directed by Quentin Tarantino in his feature-length debut. It stars Harvey Keitel, Tim Roth, Chris Penn, Steve Buscemi, Lawrence Tierney, Michael Madsen, Tarantino, and Edward Bunker, as diamond thieves whose planned heist of a jewelry store goes terribly wrong.
Natural Born Killers - Woody Harrelson : Natural Born Killers may be one of the most controversial films of the 1990's which featured a great deal of random & senseless violence (yes, all violence is senseless). Woody Harrelson was wearing Ray-Ban 3447 in Oliver Stone's movie.

Terminator - Arnold Schwarzenegger : The use of sunglasses by Arnold Schwarzenegger's cyborg character was very deliberate. The movie's creator, James Cameron, wanted Schwarzenegger to portray an emotionless machine. Schwarzenegger wore Gargoyles in the original movie and Oakleys in the second Terminator film.
Other famous people with well know sunglasses:
John Lennon - well known for wearing round eyewear.

Elton John - are you looking to have FUN with eyewear?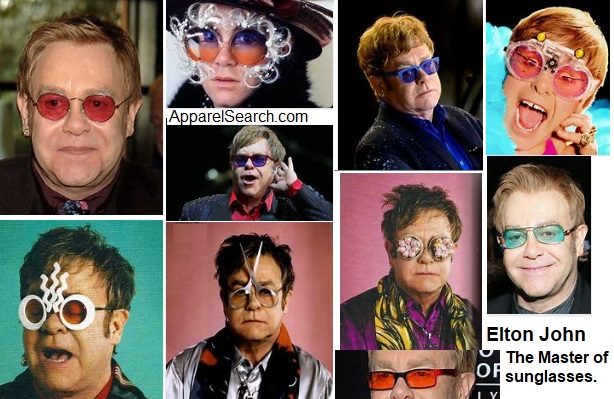 Audrey Hepburn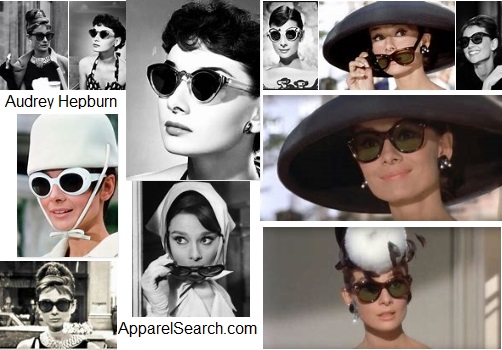 Jackie Kennedy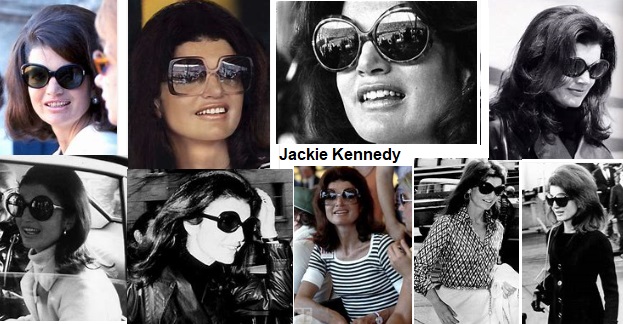 Learn more about sunglasses in our fashion influence section.
Find the proper sunglass frame shape for your face shape.
Who are we to judge the best sunglasses? Making a selection is highly subjective. Eyewear that looks fantastic on one person may actually look absolutely horrible on you. Let's be honest, the shape of your face will clearly play a role in what does or does not look good.
Oval Face Shape - If your face is taller than it is wide, you are fortunate enough to be able to pull off a variety of looks. Rectangle frames can balance your face's vertical , upswept styles complement high cheekbones and you can try shield frames if you would like better coverage.
Round Face Shape - So, we hear you have a face that has a similar height to width. You may want to try rectangle shape eyewear. Going with geometric shapes like horizontal frames may serve you well. Rectangle shapes help give the face a longer appearance if that is a look that you wish to try.
Square Face Shape - you must have rather bold & distinctive features if you have a square face. Do you have a broad jawline and a chiseled brow. Curves on eyewear look great on square faces, so you may wish to consider round shaped lenses or frames. Possibly oval and pilots. If you go with a semi-rimless style, you may find that to help balance a prominent jawline as well.
Heart Face Shape - we heard around town that you are passionate and have a big heart. Oh wait, actually we heard you have a heart shaped face instead. A heart shaped face is one with a narrow chin and broad brow. Using low profile frames can help elongate your look. Light color frames and frames with a thin temple can also serve this purpose. If you are interested, you can also try embellished bottoms if you wish to draw attention down your face.
Best Sunglass Brands
Ray Ban - founded by Bauch and Lomb in 1937. It is one of most popular and well-known eyewear and sunglasses brand in the world. Ray Ban is known world-wide for Wayfarer and Aviator styles of sunglasses and also the brand offers wide range of products with respect to design, material, lenses and style, making it most preferred and reliable brands for buying sunglasses.
Oakley - Oakley: Oakley, Inc. is best known for its sportswear, but in the 1980's they moved on from ski goggles to sunglasses.
Gucci - Eclectic, contemporary, romantic—Gucci products represent the pinnacle of Italian craftsmanship and are unsurpassed for their quality and attention to detail.
Versace - Versace sunglasses provide the finishing touch to any look, and suit a multitude of styles. Made in Italy by the best optical craftsmen in the world, Versace eyewear is modern elegance for the face. Browse from a range of styles from aviators to visors, cat-eye, round or statement gold frames with Medusa accents for women. See the world through the eyes of Versace.
Maui Jim - Maui Jim is a Peoria, Illinois-based manufacturer of sunglasses. The company was founded in Lahaina, Hawaii in 1980. As of 2015, the company was the third largest producer of sunglasses in the world.
Burberry - Classic styles refined through palette and proportion in the Burberry London studio.
Prada - Prada S.p.A. is an Italian luxury fashion house, specializing in leather handbags, travel accessories, shoes, ready-to-wear, perfumes and other fashion accessories, founded in 1913 by Mario Prada.
Armani - Italian fashion house Armani is well known for their luxury goods, and their sunglasses are no different. They're a high-end product with a high-end price tag, but the quality materials and manufacturing make the products comfortable, durable, extremely stylish and one of the world's seriously cool sunglasses brands.
Fendi - designer sunglasses including sophisticated and creative styles. A fashion house with a rich history and a flair for the futuristic, Fendi epitomizes high style with a dose of drama. Founded in Rome in 1925, Fendi is renowned for its luxurious fashions, furs and accessories. Fendi sunglasses are no exception. Crafted in Italy of the finest materials a pair of Fendi sunglasses can bring many years of pleasure.
Persol - In the early history of Persol, when the glasses were produced in small volumes, the company also offered more than four different sizes for each pair of glasses, bridges of various heights and widths and arms of various lengths – all in the name of making each pair of glasses essentially "made to measure" so they would be as comfortable as possible. Persol is an Italian luxury eyewear brand specializing in the manufacturing of sunglasses and optical frames. It is one of the oldest eyewear companies in the world and is owned by the Luxottica group. The name is derived from the Italian per il sole, meaning "for the sun". Formed in 1917 by Giuseppe Ratti, Persol originally catered to pilots and sports drivers. Presently, the company markets durable sports sunglasses. The company trademark is a silver arrow.
Dior - Dior brings something new to every season. Christian Dior SE, commonly known as Dior, is a French luxury goods company controlled and chaired by French businessman Bernard Arnault, who also heads LVMH, the world's largest luxury group. Their eyewear is exceptional.
Bottega Veneta - Discover a wide assortment of extraordinary hand-crafted items. Bottega Veneta is an Italian luxury goods and high fashion brand. Founded in 1966 in Vicenza, Veneto, its atelier is located within an 18th-century villa in Montebello Vicentino and its headquarters are in Lugano, Switzerland with offices in Milan and Vicenza, Italy.
Barton Perreira - Founded by Bill Barton and Patty Perreira, Barton Perreira achieves innovation in the eyewear industry through impeccable craftsmanship and design. A dedication to quality is at the heart of co-founder Bill Barton's approach to all aspects of Barton Perreira, from the manufacturing process behind each impeccably crafted frame to the level of service customers receive.
Thom Browne - Thom Browne is an American fashion designer. He is the founder and head of design for Thom Browne, a New York City-based menswear and womenswear brand. Browne debuted his womenswear collection in 2003.
You may also have interest in viewing sunglass blog posts on the Fashion Blog.

Additional links of possible interest:
Some styles are so legendary that everyone wants to give them a go, but you have to take in to consideration the shape of the frames and lenses before trying to pull off the same style as your favorite musician or Hollywood super star.
Don't forget the eyewear is not only for fashion. Polarized lens options will keep your eyes protected from the sun's glare. Sunglasses or sun glasses are a form of protective eyewear designed primarily to prevent bright sunlight and high-energy visible light from damaging or discomforting the eyes. They can sometimes also function as a visual aid, as variously termed spectacles or glasses exist, featuring lenses that are colored, polarized or darkened.
If you have time to do a bit more reading, you may want to visit the absolute best fashion page on the internet.