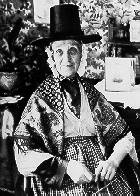 The Welsh hat worn by women as part of Welsh national costume is a tall stovepipe-style hat. It is still worn by women, and particularly schoolgirls, in Wales on St David's Day, but rarely on other occasions. It is a legacy of 18th century dress. The hat is normally worn with a lace cap underneath, showing under the brim, or may have lace attached to the brim. The covering is usually of black felt.

Legend has it that the women's hats were a deciding factor in terminating the attempted invasion of Britain by Napoleonic forces in 1797. The French soldiers are said to have mistaken the women, seen at a distance in their red shawls and Welsh hats, for a detatchment of British "redcoats", whose uniform included tall black hats.

There is an "alternative" women's hat for those who consider the traditional Welsh hat unflattering, in the form of a "cocklewoman's hat", a flat straw hat tied with ribbons.

A derived meaning of Welsh hat is an ancillary stack, usually black in color and slightly conical, attached to the funnel of a ship to ensure cleaner disposal of exhaust from the engines. This arrangement was used in several passenger liners by the Orient Line in the 1950s.