Fashion Designers Pg. 1 Fashion Designers Pg. 2 Fashion Designers Pg. 3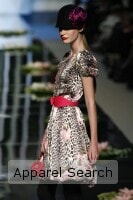 Visit our new
Fashion Designer Guide by Fashion Designer Name
section.
When you are done reviewing the designers below, you may also find interest in reviewing relevant fashion designer topics.
---
Nara Szalon (Hungary)
---
---
Nicola Luccarini NICOLA LUCCARINI is a brand synonymous of prestigious fibers and a brand new depth of detail. Stones, sequins, decorations, embroidery, knitted applications; inserts in different yarns and color studies make each collection a new and truly original trend. From formal to informal, each garment is created for free interpretation by the woman wearing it. Each garment epitomizes glamour and elegance, is chic and sophisticated and yet can be transformed into trendy and young depending on how it is worn. Cashmere becomes a yarn to be worn always, at all ages, in all occasions, NICOLA LUCCARINI makes the difference.
---
Nicole Miller : Features the current collection, online stores, and special section for brides.
---
Ojai International : they design comfortable and easy to care outdoor, fashionable clothing.
---
---
Oscar de la Renta : Oscar de la Renta is a high-end fashion designer of clothing, luxury goods, fragrances and accessories for men and women.
---
Pamela Thompson : Young designer into futuristic cartoon imagery.
---
Parizadeh Couture : Haute couture, designers' lingerie, beach fashion.
---
Paul Smith (United Kingdom) : Within 20 years of his introduction to fashion Paul Smith had established himself as the pre-eminent British designer. Paul Smith has an ability to anticipate, and even spark off trends not only fashion but in the wider context of popular culture. He manages to transmit a genuine sense of humour and mischief mixed with his love of tradition and the classics.
---
Peggy Jennings Designs : Couture women's wear, mother of the bride and groom, Tzeni'ut, Kosher fashion.
---
Perry, Fred : Upscale British fashion company named after the former tennis great. Specializes in upmarket mod-casual fashion. Includes brand history and e-store.
---
Philip Treacy : Features the haute couture, ready to wear, and hat collections.
---
---
Pierre Garroudi : Pierre Garroudi's clothes make a statement. He invests his silhouette with a sense of the future, that recognizes no boundaries. His style is ageless and timeless.
---
---
Quinnen : Current and previous collections from the London based designer of clothing and accessories.
---
Raine De Vant : is a fashion house that caters to celebrities and trend setters around the world. They offer couture, ready to wear, clubwear, men's wear and women's wear a long with limited edition high fashion futuristic pieces. They have an office in Los Angeles, CA as well as in Edmonton, AB Canada and they plan to branch into the UK and Japan. They will be coming out with a line of fragrances, footwear and mass market collections in the near future and will one day be producing a line of futuristic children's wear as well. Their goal is simply to dress the future. Address: 819 Santee St, suite 402 Los Angeles, CA 90014 Phone (310) 689-6642 Canada: 1520 - 5328 Calgary Trail NW Edmonton, AB T6H 4J8 (780) 222-9204
---
Ralph Lauren : Designer of Polo brand. Includes history, current collections, store locator and a guide to fashion and style.
---
Ramm, Polly : Showcasing the work of the Los Angeles-based designer who juxtaposes rich fabrics and clean shapes with a hint of urban sexiness. Celebrity stylist
Rebecca Bruce : Featuring the Bekke line of knit desings.
---
---
Re-Gen fabrication : Designer Yen Gilpin constructs geometric clothing.
---
---
Robert Abi Nader: History of the designer, a portfolio of his current designs, future shows.
---
Roberto Cavalli : Offers information about collections, boutiques locations and news.
---
Robert Rodriguez : Many things have influenced the life of Designer Robert Rodriguez; but it was Christian Dior that played an integral role. Growing up, Robert's mother gave him a book on Christian Dior and it was that book that became Robert's bible and doorway into the world of fashion couture. After completing his education at the Fashion Institute of Technology, Robert Rodriguez accepted a Design position ironically working for Christian Dior under the guidance of Marc Bohen and Geri Gerald. Robert's love for fashion, excellent artistry with the styling of garments and his commitment to elegant dressmaking brought him great recognition. The Robert Rodriguez collection has gained quick attention from buyers, celebrities and trendsetters everywhere.
---
---
Salvatore Ferragamo : Italian design house. Current and past collection photos, worldwide store locations, advertising campaigns and information about the Ferragamo shoe museum in Florence, Italy.
---
Sayadej.com : Sayadej, young Parisian fashion designer, presents his creations made from originals materials : silk kimono, traditional weaving from Laos, metal and plastic.
---
SK Wilbur : Collection, press releases, fashion tips.
---
Stella McCartney Biography and news, with photographs of current and previous collections.
Learn more about Stella McCartney at Plus Dragon. And discuss this fashion designer and brand on Google+.
---
---
Sue Young : Personally created custom patterns for individual style and fit. Business suits and special occasion dresses.
---
Sui, Anna : Anna Sui is an American fashion designer. Sui is one of the most celebrated names in fashion history, known for her timeless designs and ability to transcend eras with historical and culturally inspired collections
---
---
Thomas Brent : Designer clothing including mens, womens, teens and childrens wear.
---
Thomas Pink (United Kingdom)
---
Trina Turk : Designer Trina Turk has championed the effortless élan and sunny optimism of the native mindset through world-wise women's ready-to-wear and accessories, a menswear line called Mr Turk, and residential décor and textiles since launching the brand with her photographer husband, Jonathan Skow, in 1995. Trina opened her first retail boutique in Palm Springs in 2002 and has since expanded to seven boutiques. Licenses include a printed fabric collection for the home with home furnishings manufacturer Schumacher and the recent collaboration with Banana Republic for Summer 2012. Address: 3025 West Mission Road Alhambra, California 91803 United States Office phone: (626) 458-7768 Contact person: M. Sanhez Email: msanchez@trinaturk.com
---
Urstadt, Lauren : Women's clothing, costume and accessory design.
---
Van Beirendonck, Walter : Home page of postpunk Belgian designer Walter Van Beirendonck.
---
van Well, Liesbeth : Dutch designer of hats for every occasion.
---
Vera Wang : Features collections and store locations.
---
Versace, Gianni : Ad campaign, women's and men's line of clothing, accessories and retail locations.
---
Vinita Pittie : Collections range from Indian to Western. Includes casual and formal womenswear.
---
---
von Furstenberg, Diane : Virtual studio, browse the designer's latest collection, behind the scenes at DVF Studio, and DVF Diary, Diane's journals.
---
Westcott Design : Design studio for woven and knitted women's wear. Summer and winter collections. Multi-lingual site.
---
Zambesi (Elisabeth and Neville Findlay)
---
Zeto (Nami)
---
Zuss Fashion Design : A showcase of rubber fashion, made from recycled bicycle tubes.
Don't miss our new Fashion Designer Guide by Fashion Designer Name ...
You may want to stop by the fashion scales section on Plus Dragon. That site has information about fashion designers as well.
Return to the Clothing Designers main page.