Fashion Designers Pg. 1 Fashion Designers Pg. 2 Fashion Designers Pg. 3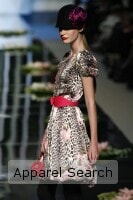 Visit our new
Fashion Designer Guide by Fashion Designer Name
section.
When you are done reviewing the designers below, you may also find interest in reviewing relevant fashion designer topics.
Nicola Luccarini NICOLA LUCCARINI is a brand synonymous of prestigious fibers and a brand new depth of detail. Stones, sequins, decorations, embroidery, knitted applications; inserts in different yarns and color studies make each collection a new and truly original trend. From formal to informal, each garment is created for free interpretation by the woman wearing it. Each garment epitomizes glamour and elegance, is chic and sophisticated and yet can be transformed into trendy and young depending on how it is worn. Cashmere becomes a yarn to be worn always, at all ages, in all occasions, NICOLA LUCCARINI makes the difference.
---
Nicole Miller : Features the current collection, online stores, and special section for brides.
---
Oscar de la Renta : Oscar de la Renta is a high-end fashion designer of clothing, luxury goods, fragrances and accessories for men and women.
---
Pamela Thompson : Young designer into futuristic cartoon imagery. Pamela Thompson is one of the brightest stars to emerge from New York City's Fashion Scene. Pamela came to NYC from Chicago to launch her career in Fashion Design. Throughout the years Pamela has worked for some of the industries most notable fashion designers.
---
Paul Smith (United Kingdom) : Within 20 years of his introduction to fashion Paul Smith had established himself as the pre-eminent British designer. Paul Smith has an ability to anticipate, and even spark off trends not only fashion but in the wider context of popular culture. He manages to transmit a genuine sense of humour and mischief mixed with his love of tradition and the classics.
---
Peggy Jennings Designs : Couture women's wear, mother of the bride and groom, Tzeni'ut, Kosher fashion.
---
Philip Treacy : Features the haute couture, ready to wear, and hat collections.
---
Piazza Sempione : Piazza Sempione style, which is synonymous with minimalist, distinctive elegance, is the result of the weave of the textiles themselves, the study of volumes and the excitement of color, following a sartorial approach that respects and continuously evolves the brand's core values. Like an artist's canvases, the materials are decorated with motifs and elements that combine hues, inlay work, embroideries, and couture appliques with clean, essential lines, translating the perfection of every size and creation into a style with a strong identity, which is discreet and simultaneously evocative
---
Raine De Vant : is a fashion house that caters to celebrities and trend setters around the world. They offer couture, ready to wear, clubwear, men's wear and women's wear a long with limited edition high fashion futuristic pieces. They have an office in Los Angeles, CA as well as in Edmonton, AB Canada and they plan to branch into the UK and Japan. They will be coming out with a line of fragrances, footwear and mass market collections in the near future and will one day be producing a line of futuristic children's wear as well. Their goal is simply to dress the future. Address: 819 Santee St, suite 402 Los Angeles, CA 90014 Phone (310) 689-6642 Canada: 1520 - 5328 Calgary Trail NW Edmonton, AB T6H 4J8 (780) 222-9204
---
Ralph Lauren : Designer of Polo brand. Includes history, current collections, store locator and a guide to fashion and style.
---
Rebecca Bruce : Featuring the Bekke line of knit desings.
---
Reem Acra : Reem Acra is a renowned international designer known for her breathtaking collections in Ready-to-Wear and Bridal. She combines tradition with a modern aesthetic and leads the way by continuously redefining the boundaries of fashion.
---
---
Robert Abi Nader: History of the designer, a portfolio of his current designs, future shows. Robert Abi Nader started his fashion steps in Paris; he was the first and youngest Lebanese to attend and graduate from the prestigious Chambre Syndicale de la Couture Parisienne.
---
Roberto Cavalli : Offers information about collections, boutiques locations and news.
---
Salvatore Ferragamo : Italian design house. Current and past collection photos, worldwide store locations, advertising campaigns and information about the Ferragamo shoe museum in Florence, Italy.
---
Sayadej.com : Sayadej, young Parisian fashion designer, presents his creations made from originals materials : silk kimono, traditional weaving from Laos, metal and plastic.
---
SK Wilbur : Collection, press releases, fashion tips. Fashion design veteran, Wilbur Pack, Jr., began his journey in 1998 when he introduced SK WiLBUR, a contemporary line of clothes for the working woman. In 2013, after being consistently asked by curvy women to offer his elegant designs in larger sizes, Pack set his sights on creating better wardrobe options for the full figured fashionista. He is now winning over both men and women with his line of handcrafted bags made in NYC. Classic shapes comprise the collection. Rendered in leather, suede, and natural fabrics, the tote bag, backpack, messenger, and cross body styles are sold in small shops around New York City.
---
Stella McCartney Biography and news, with photographs of current and previous collections.
---
---
Ted Baker : Having launched as a shirt specialist of some repute in Glasgow, UK, Ted Baker quickly became the place to buy some of the very best contemporary men's shirting around. From the beginning Ted has had a very clear, unswerving, focus on quality, attention to detail and a quirky sense of humor, so much so in fact that the first stores used to provide a laundry service for every shirt purchased – something that gained the quickly growing brand the title of 'No Ordinary Designer Label'. Everything produced under the Ted Baker name has his personality woven into its very heart.
---
Thomas Brent : Designer clothing including mens, womens, teens and childrens wear.
---
Thomas Pink (United Kingdom) A Maison of the LVMH group, Pink Shirtmaker has transformed with a full relaunch that returns us to our core founding values. They have taken a clean-slate approach to rebuilding their brand, reaffirming their identity while remaining faithful to their founding spirit, always focusing on what they do best: creating shirts that are built to last. Pink is based in London, where their story started in 1984.
---
Trina Turk : Designer Trina Turk has championed the effortless élan and sunny optimism of the native mindset through world-wise women's ready-to-wear and accessories, a menswear line called Mr Turk, and residential décor and textiles since launching the brand with her photographer husband, Jonathan Skow, in 1995. Trina opened her first retail boutique in Palm Springs in 2002 and has since expanded to seven boutiques. Licenses include a printed fabric collection for the home with home furnishings manufacturer Schumacher and the recent collaboration with Banana Republic for Summer 2012. Address: 3025 West Mission Road Alhambra, California 91803 United States Office phone: (626) 458-7768 Contact person: M. Sanhez Email: msanchez@trinaturk.com
---
Vera Wang : Features collections and store locations.
---
Vivienne Westwood : The hippie movement was still the fashion look of late 1960s London, but this did not inspire Vivienne Westwood and Malcolm McLaren, they were more interested in rebellion and in particular 1950s clothing, music and memorabilia. Vivienne began by making Teddy Boy clothes for McLaren and in 1971 they opened Let it Rock at 430 Kings Road. That is wear the story began, and the rest is history.
---
Zambesi (Elisabeth and Neville Findlay)
Don't miss our new Fashion Designer Guide by Fashion Designer Name ...
Return to the Clothing Designers main page.