Fashion Designers Pg. 1 Fashion Designers Pg. 2 Fashion Designers Pg. 3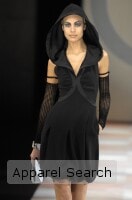 Visit our new Fashion Designer Guide by Fashion Designer Name section.
You may want to stop by the fashion scales section on Plus Dragon. That site has information about fashion designers as well.
When you are done reviewing the designers below, you may also find interest in reviewing relevant fashion designer topics.
Emma Cook (United Kingdom)
---
Eric Tibusch (Paris)
---
Evil Kitty Evilkitty.net presents a clothing line based on a character called Evil Kitty. Some of the items will remind you of this mischievous character, while others are more removed from Evil Kitty. The site provides only "cruelty-free" attire. You will never see any leather or real fur on evilkitty.net. Evilkitty.net caters mostly to the female audience, but it also has its male admirers.
---
---
Gala Moseevsky : Russian designer. Women's wear collections, graphic artwork, knitwear designs, embroidery, sketches.
---
Gianfranco Ferre : The official site.
---
Gucci :
---
Helmut Lang : Home page of the Austrian designer featuring extensive collection of photos of his most recent collections.
---
Isabell Kristensen : Haute Couture collections online.
---
Issey Miyake : Issey Miyake, fashion designer's home page.
---
Iwona Creation : Designs contemporary, classic and haute couture collections with the European classical tailoring.
---
Jenny Hoo : Classical womens clothing with a modern edge. Fashion Designer Jenny Hoo:- Ladies fashion, classical clothing with a modern edge. Available from the Jenny Hoo store in Melbourne, or personally contact Jenny Hoo for an appointment to work out your wardrobe requirements.
---
Jesse Khong : San Francisco designer. Collections, events, model information.
---
---
Jessica Labelle : Creative clothing design. Provides dresses, suits, lingerie, and bags for every day use.
---
---
Jilli Blackwood : Textile and fiber designer specialising in hand dyed fabrics using unique embroidery and woven techniques to create textured one off designs of silk, wool, for wallhangings, cushions, quilts, curtains, kilts, waistcoats for interiors and art collectors.
---
J Lindeberg : Stockholm Designer
---
Julie Atri From her loft studio in the heart of the fashion district overlooking the California Market Center, Julie Atri's sassy, smart, stylish and fun designs are created. Inspired by life, love of nature, music and fine art, Julie's clothes are uniquely finished with artisan details such as hand embroidery, one of a kind ruching, custom stitching and more. What sets her designs apart from all others is the ease, comfort, and fun flair of her apparel. Imagine beautifully detailed fashion that you can wear all day and night! Clothes so comfortable you never want to take them off.
---
Juta Zuloaga : Made with textured, colorful cotton/rayon boucle, custom orders or p-xxl. Flattering, forgiving separates for timeless, classic styles in cardigans, skirts, tops and coats.
---
Kamila Rizayeva if you are looking for classy and vibrant female clothes, unique in terms of cut, design and colour. Most of the clothes are made from Italian silks, French velvets and couture textiles from all over the world. If there is anything you like to order you may leave a contact me email with your contact details and querie in the 'Conctacts' page, and you will get a quick reply.
---
Kate Spade : Interview with the popular handbag designer.
---
Kevan Hall : Detroit-born Kevan Hall's fashion creativity emerged early. By the age of seven, he knew he wanted to be a fashion designer. After attending Cass Technical High School in Detroit, where he studied fashion design, he won first place as "Designer of Tomorrow" - a scholarship sponsored by the Los Angeles-based Fashion Institute of Design and Merchandising. While studying in California, he made a vision-enhancing trip to Europe, where at the houses of Cardin, Dior and most notably, Givenchy his lifelong love of luxury and haute couture was once again sparked. Upon graduation from the Fashion Institute, he received the Peacock Award for
Outstanding Fashion Design".
---
Kitty Boots : Site of Downtowwn New York club-fashion legend.
---
Kristopher Enuke : Los Angeles is a melting pot of cultures and designer Kristopher Enuke reflects the multi-cultural mix in his designs. Nigerian born, English educated and raised in Los Angeles gives this designer an eclectic background which is interpreted through his work. He retains the LA cool in his designs while still letting a bit of English eccentricity emerge. The result is a celebration of classic elegance and ethnicity that has the distinct Angeleno air to it as well. Kristopher pays passionate attention to detail and fit while reinventing the clothing. Before designing for Oligo Tissew, he attended Otis Parson and earned a Bachelor of Fine Arts in Fashion Design. He has a variety of experience at companies from denim to knitwear which rounded out his education in textile and production. Kristopher coined the Oligo Tissew label to mean refined cloth. It is held by its parent company Oliver Twist whose philosophy of the orphan who made it goodholds true. This label holds Kristopher's passion for design, but more than that it also is his way of giving back. OLIGO TISSEW March 2007
---
Latelier Designs : Design, dressmaking, alterations for ballgown, evening and maternity wear.
---
---
---
Lori Petty : Lawd Knows clothing, designed by actress Lori Petty (A League of Their Own) has created a beautiful line of clothing with messages of peace, faith, joy and compassion.
---
Louis Vuitton : Women's and men's ready-to-wear clothing and accessories collections by Marc Jacobs for Louis Vuitton
---
Leigh Bantivoglio : Collection photos, contact information and press releases.
---
Mac and Jac : Women's casual apparel, active wear, T-shirts, tops, bottoms and sweaters.
---
Mah-Vay Studios : Wynd Novotny is one of the nations 25 art-to-wear fashion designers to exhibit at the Western Design Conference. Wholesale leather lines and custom folk couture.
---
---
Maria Bianca Nero : Offers formal evening dresses and sporty line with seasonal styling.
---
Maria Grachvogel: Fashion designer for women and bridal.
---
Marian Clayden : After-five and special occasion women's wear featuring fine silks and cut-velvets. operates her business from the small town of Los Gatos, in northern California, just south of San Francisco, and nestled at the base of the picturesque Santa Cruz Mountains. Marian Clayden Inc, is a small family-owned company with people from eleven nations around the world that proudly combine their talents to create her special garments.
---
---
Marsha Swanzy : Design and commission garments, outfits and one-off pieces and vintage garments.
---
Matucci Milano Cashmere Fashion Designer : Offers collections of casual knitted cashmere leisurewear, jackets and light coats in knitwear with fur trims.
---
McQueen, Alexander : Women's wear.
---
Megen Ming : A designer for menswear.
---
---
Mide their mission at Mide (pronounced mid-ee) is to professionally challenge the fashion industry by keeping ideas in motion while making incredible designs exposed. Mide strives as a young contemporary designer of the millennium with signature styling focuses bringing elegance to apparel by mixing prints and embellishments on luxuriously textured fabrics. Mide continues to offer clients fresh ideas with the development of every seasonal collection. Making Incredible Designs Exposed will remain eye catching, exciting and high fashion for the coming years. Their philosophy of design is to fuse analytical designs that obscure the body's silhouette in high-energy styles that reflects a unique personal style. Each piece adds elegance and confidence through quality-construction made from durable fabrics that can be washed, worn and kept for years.
---
---
Mimi Lee : Miami based designer of trendy women's fashions.
---
Miriam Mone : Irish designer of women's clothing.
---
Miyake, Issey - Making Things : Fashion designer.
---
Moschino : Home site of the Italian house with a chat line, and a store directory.
Visit the next page for more Fashion Designers.
Don't miss our new Fashion Designer Guide by Fashion Designer Name