Trend Direction for Fall
Metallic Denim, Menswear inspired, chunky knits and a color palette of darks accented by vibrant color. Our theme was "Dona Nobis Pacem" which is latin for "give us peace and along the strong representation of dark colors for Fall we placed a lot of color in the collection as a representation of happiness and the desire for peace.
This theme runs through the graphics and prints of the collection as well, the geisha who has always represented a moment of pleasure during war, the young boy carrying his umbrella with a character meaning "peace", the model face graphic with a hand signing peace, and the crane, which is an ancient symbol for happiness and peace.
Metallic Denim
The washes on the denim are rubberized which gives the ordinary denim jean the look of a motorcycle pant without being leather. For once there is an option for the rock n'roll crowd that supports PETA.
Jackets and denim are treated with foils and pigments that reflect the trend direction of metallics for Fall.
Menswear Inspired
Women's wear that takes is cues from men's wear is found on Oligo Tissew's runway in the form of trousers cut with bow legs that sheer in the fabric at the lower inseam, short cuffed shorts worn with what looks like sock suspenders, tailored skirts with the seams facing outwards. Winged lapel coats with tulip sleeves or slim fitted jackets are all fabricated in cotton pinstripes with and without metallic fibers woven in.
Chunky Knits
Knits are bold and define their own shape. They are sculptural in form. Less chunky knits are knitted with epaulette details or oversized hoods.
Vibrant Color
Color is repeated in the graphic T's and knit dresses. The custom Oligo Tissew knit dress is made in a knit exclusive to Oligo Tissew because it uses it's own trademark as a pattern. The combinations of color range from hot pink and brown, to purple and green. These color combinations find their way into the rubberized treatments on denim as well and round out the Fall collection.
About Kristopher Enuke
Los Angeles is a melting pot of cultures and designer Kristopher Enuke reflects the multi-cultural mix in his designs. Nigerian born, English educated and raised in Los Angeles gives this designer an eclectic background which is interpreted through his work. He retains the LA cool in his designs while still letting a bit of English eccentricity emerge. The result is a celebration of classic elegance and ethnicity that has the distinct Angeleno air to it as well. Kristopher pays passionate attention to detail and fit while reinventing the clothing. Before designing for Oligo Tissew, he attended Otis Parson and earned a Bachelor of Fine Arts in Fashion Design. He has a variety of experience at companies from denim to knitwear which rounded out his education in textile and production.
Kristopher coined the Oligo Tissew label to mean
refined cloth
. It is held by its parent company Oliver Twist whose philosophy of the
orphan who made it good
holds true. This label holds Kristopher's passion for design, but more than that it also is his way of giving back. He has set up a scholarship fund in his hometown village in Nigeria so that village children can improve their future and the success of the Oligo Tissew line enables Kristopher to also help ensure the salaries of the village school teachers.
Kristopher Enuke is a sought after talent whose reputation for design often preceeds him. The Oligo Tissew line is only a small token of his talents, but it is one that many admirors wish to relfect and one that many women wish to wear. Kristopher's main intent is make the wearer of his clothing feel sexy.
Learn more at www.oligotissew.com
View the Kristopher Enuke Fashion Designer Profile on Apparel Search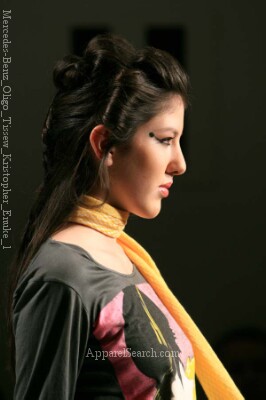 Fashion Week Directory
Fashion Week Photos
Fashion Blogs
Fashion Newspaper Fashion Articles