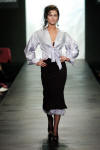 Designer Search match making service for fashion industry artists to post portfolios so that clothing companies can learn of their talents and hire them for freelance design services. The designer search fashion portal is for clothing and textile design only.
Atelier Atelier Designers offer creative fashion collections of women's wear and accessories to the wholesale trade only. Overall, Atelier represents over 60 studio designers. In 3 trade shows yearly during New York Fashion Week, a selection of these designers show designer fashion, couture, evening wear, jewelry and accessories.
Europa Regina: Since 2000 they have been publishing about the Creative Industries. Their B2B publication is a resource for designers, retailers, wholesalers and trade professionals. At Europe Regina you will find latest news, press releases and dates about the most important fashion weeks and trade shows worldwide as well as information on global trends and lifestyle events.
Fashion Industry Network: the fashion industry network is a business networking site. Members of the network work in the clothing industry or textile industry, or have a very strong interest in style.
Visit the next page for more Fashion.