APPAREL Fabrics, SERVICES, TRIMS SOURCEBOOK DIRECTORY by THE FASHIONDEX INC.
Comprehensive directory for apparel manufacturers, designers, and production sourcing departments in the men's,
women's, children's clothing and accessories industries.
A complete and up-to-date sourcebook listing over 2800 nationwide suppliers of fabrics, trims, notions, forecast services,
swatch studios, CAD services and more for the apparel industry.
The sourcebook includes the following information, if it is available:
Company address Telephone & fax numbers.
Email address.
Sales managers names.
Products they sell, manufacture or services they provide.
If goods are domestic, imported and where they import from.
Minimum quantities for production.
Price points, market they cater to, and more.
fabricS AND TRIM MANUFACTURERS, CONVERTERS, JOBBERS, AGENTS, MILLS, AND REPS LISTED. OVER 65 CATEGORIES SERVE ALL INDUSTRY SOURCING NEEDS.

Learn more about Fashiondex
Additional Resources:
"2006-07"

The Apparel Salesman's Guide to Retailers and Buyers in the USA and Canada
Fashiondex Directories - Apparel fabrics, Services & Trims Sourcebook Directory
The Directory of Brand Name Apparel Manufacturers and Private Label - Fashiondex
National Register - Apparel Manufacturers
National Register - The Apparel Marketplace: Wholesalers, Importers, Exporters
National Register - Fashion Accessories
The National Register of Independent Sales Reps
fabric Marketing Research - Apparel Retail Directories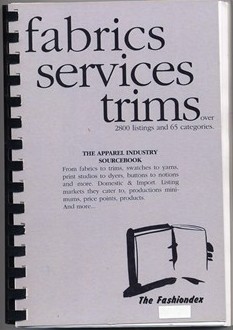 Additional Apparel Industry Directories