Justice is the leader in fashion apparel and accessories for tween girls, ages 7-14. Justice celebrates everything "tween girl" through an extraordinary experience of fashion and fun. Backed by the brand recognition of more than 900 retail stores, ShopJustice.com extends that experience online.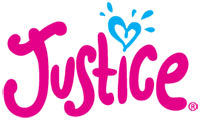 At Justice, they enhance a tween girl's self-esteem by providing her the hottest fashion and lifestyle products, in a unique, fun, interactive environment... all at a great value for mom.
With over 900 stores throughout the United States (based on 2011), the commonwealth of Puerto Rico, Russia, and the Middle East, Justice is the largest premier tween specialty retailer in the world. And they are just a click away for an average of one million monthly visitors who enjoy the ease of shopping online at their website: ShopJustice.com.
Their creative teams lead the industry providing the hottest fashions for tween girls, ages 7 to 14—fashions that help girls express their individuality and self-confidence. The result of this creative firepower is legend with tween girls—and they wouldn't have it any other way.
Known as the destination for fashion-aware tweens, Justice proudly distributes catazines and direct mail pieces that reach millions of girls annually, further positioning Justice as a preeminent retailer in the tween marketplace. When it comes to setting the trends and delivering on their mission, Justice puts the smile on a tween girl's face and the giggle in her voice. It's magical, it's fashion at its best... it's Justice.
In the 1960's, The Limited revolutionized retail by opening a new store in Columbus, Ohio, which quickly became a fashion destination. As years passed the brand realized a loyal following, went public, and continued to grow.
After a number of brands were introduced through Limited, Inc., it became evident that daughters wanted to dress more like their mothers, and a new concept was born.
In 1987, The Limited introduced Limited Too, mini-adult European fashions for young girls. Initially, the store catered to a wide-variety of ages from infants to young adults.
Years passed and in the late '90s, and under the direction of Michael Rayden, the brand evolved. Fun, colorful, and interactive stores were designed—stores that catered to a new audience: tween girls, ages 7 to 14.
A new logo was introduced along with fashion-forward designs that caught the eye of this young demographic, and in no time, Limited Too became the destination for tween girls. Growth continued. In 1999, Limited Too spun-off from The Limited, Inc., with over 300 stores.
Marketing efforts took on an entire new dimension with the introduction of a catazine (magazine/catalog) tween girls received in the mail. Their passion for the brand was unmistakable, and they continued to provide an unforgettable shopping experience in their stores. In 2000, they invited tween girls to shop 24/7 online, generating another avenue of sales. That same year Limited Too was named a "hot growth" company. Growth and prosperity continued. Sourcing offices were opened in Hong Kong and Korea, and the company celebrated 500 stores in 2002.
In 2004, Mr. Rayden further evolved the brand by introducing a value-priced destination for their girls and Justice stores featured fashions for tween girls at more affordable prices.
2005 provided opportunity for girls to peek online at the fashions being featured in stores, and then allowed them to shop online for Justice in 2008. By 2008, there were over 280 Justice stores.
In 2006, Too inc. completed its name change to Tween Brands, Inc., and the first Justice catazine was produced—it now reaches millions of tween girls across the country.
Limited Too and Justice stores set the trends others followed, and helped build the self-esteem of tween girls, no matter their personality.
2008 marked a historic year—Limited Too and Justice became one brand. A single vision with a single focus for our tween girl.
Justice proudly features outgoing sales associates who assist tween girls in expressing their individuality and self-confidence through fashion, and has become known as the preeminent retailer in the tween marketplace.
In 2009, Tween Brands became part of a powerhouse entity by merging with Ascena Retail Group, Inc. As a division of Ascena Retail Group, Inc., Justice joins sister brands dressbarn and maurices providing fashions to women throughout their lives—from tweens to adult/career women.
Learn more about Justice at their website.