Founded by William Riley in 1906 as the New Balance Arch Company, in Boston, MA, New Balance manufactured arch supports and orthopedic shoes. During the 1950s and 60s, athletes turned to the company for customized running shoes due to New Balance's unique expertise in handcrafting specialized footwear. Paul Kidd bought the company in 1956 and increased the shoe-making sector as demand grew. Production of running shoes soon became the company's primary source of business. The New Balance "Trackster", one of the first running shoes made, grew very popular not only because of its technical innovation, but because it was available in a wide range of widths.

In 1972, New Balance Athletic Shoe, Inc. (NBAS) was purchased by, James (Jim) S. Davis. Four years later, the New Balance 320 running shoe was rated number one on the market, which launched the company into worldwide prominence. Since then, New Balance has diversified into making a complete range of athletic shoes – as well as apparel and accessories - for a variety of athletic activities. In 1998, NBAS acquired Dunham to expand into the rugged casual arena without diluting the NB brand. In 2001, NBAS acquired PF Flyers to pursue the active lifestyle market and new product was introduced in Spring 2003. A brand-new comfort performance footwear brand, Aravon®, was introduced at retail in Spring 2004. In early 2004, NBAS acquired Warrior Lacrosse, widely recognized as the world's most cutting edge manufacturer of lacrosse equipment, after introducing the Warrior "Burn" by New Balance lacrosse shoe. In 2005, Innovative Hockey was acquired to operate as a new division called Warrior Hockey. In August 2006, New Balance acquired Brine, Inc., a recognized industry leader in soccer, lacrosse, field hockey and volleyball, based in Milford, MA. New Balance announced in December of 2007 that it had acquired the Vital Apparel Group, one of the leading active apparel companies in the United States, based in New York.
Throughout the years, New Balance has maintained the same principles it was founded upon: superior customer service, a commitment to domestic manufacturing, and leadership in technological innovation. Around the globe, New Balance is recognized as a leading manufacturer of high-performance athletic footwear and apparel. The company's objective is straightforward - equip the elite and everyday athlete with footwear, apparel and accessories that provide the best performance, fit, quality and comfort.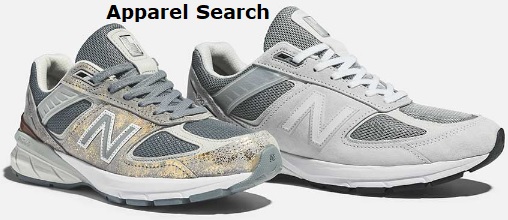 Headquartered in Boston, MA, New Balance manufactures and markets technically innovative, width-sized performance footwear and apparel for women, men, and children. The range of product categories includes running, training, walking, basketball, tennis, cleated and kids.
New Balance also has several licensees, including Moretz Sports, Eyewear Designs Ltd., Fitness Quest Inc., Franco Apparel Group, Packworks, and Hickory Brands.
Over the past few years New Balance's growth has significantly out-paced that of the industry. Worldwide sales have grown from $221 million in 1992 to $1.55 billion in 2006. As a privately held company, New Balance has remained committed to a focused set of philosophies and strengths -- including technical superiority, width-sizing, U.S. manufacturing, grassroots promotions and strong partnerships with its retailers and suppliers. Teamwork, total customer satisfaction and integrity are the core values upon which New Balance operates, and the company's tremendous success can be credited to its unyielding commitment to these values.
A Unique Approach to Athletic Products
Because feet don't come in just one or two widths, and because shoes that fit better perform better, New Balance shoes are offered in up to six different widths -- from a narrow 2A to an expansive 6E. They have developed 18 different foot models – or "lasts" – to design their shoes around. Each last takes into account the users – men, women and kids – and the use. Together, they create a complete fit and size profile to design a superior shoe – something they call 360 Fit.
New Balance also takes great pride in addressing the needs of individual athletes. The 360 Fit System utilizes a combination of innovative technologies in both their footwear and their apparel products that are developed to meet the diverse needs of athletes engaged in a variety of activities. Global Reach
New Balance employs nearly 2,800 people around the globe and the company's products are sold in 120 countries on six continents. New Balance has wholly-owned subsidiaries in the United Kingdom, France, Germany, Sweden, Hong Kong, Singapore, Australia, New Zealand, Mexico, Canada, South Africa, and Brazil. U.S. Manufacturing & Distribution
New Balance owns and operates five factories in New England – three in Maine and two in Massachusetts as well as one in Flimby, England. A seventh factory in CA, owned by one of their foreign suppliers, makes New Balance footwear exclusively. In addition, they have state-of-the-art distribution facilities on both U.S. coasts, in Lawrence, MA and Ontario, CA. New Balance faces unique challenges in domestic manufacturing yet remains undaunted. With a high quality labor force and a focus on innovation and executional excellence, New Balance has survived and thrived, and continues to take a leadership position in an industry that has sent all of its production overseas. In a global economy where quality components come from all over the world, New Balance continues to manufacture 25% percent of its shoes in the U.S. and increases the number of pairs produced each year. This is done by re-investing in the latest technologies and utilizing lean manufacturing techniques that are part of New Balance NBEE™ initiative. Unique modular teams are continually challenged to offer creative alternatives to foreign competition. Committed to maintaining a strong manufacturing base in the U.S., New Balance has proven that high quality, width-sized athletic footwear can be made by American workers in the U.S. for discriminating consumers.
Corporate Headquarters
New Balance Athletic Shoe, Inc.
Brighton Landing, 20 Guest St.
Boston, MA 02135-2088
Tel (617) 783-4000; Fax (617) 787-9355
For more information please visit https://www.newbalance.com/, or call 1-800-253-SHOE.
To learn more, visit the New Balance Website.