During an exciting, one-hour special that aired last night on TLC, Macy's revealed Dylan Gold of San Francisco, CA, as the season two grand prize winner of "Macy's Million Dollar Makeover with Clinton Kelly." Viewers tuned-in to watch as entrepreneurs Pat Pilla, Kathleen Selman and Gold vied to make their professional dreams a reality with the guidance of mentors who complemented each of their areas of business. After a makeover with Macy's style expert Clinton Kelly and a formal business pitch to celebrity judges Martha Stewart, Tommy Hilfiger and Marcus Samuelsson, Dylan secured his place as the ultimate winner of $1 million and the opportunity to sell "Dylan Gold Design Furniture" at select Macy's stores.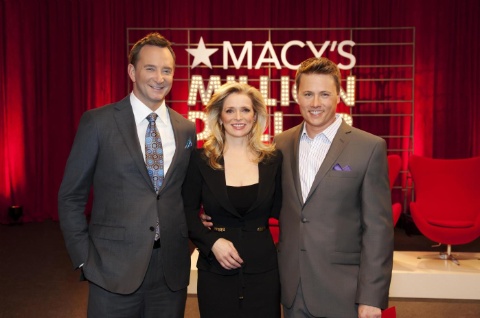 "This has truly been an unbelievable experience and I cannot thank Macy's enough for believing in me and allowing me this wonderful opportunity," said Dylan Gold, season two winner of "Macy's Million Dollar Makeover with Clinton Kelly. "Hard work, along with the help of my friends and family have gotten me this far, but with the additional knowledge and support I now have from Macy's, I can build my business, my brand, and realize dreams I've had since I was a kid."
After quitting his job to pursue his furniture design dream, Gold, 37, started "Dylan Gold Design Furniture." With his desire to "fill the void between cool concept and factory cheap stuff," Gold is ready to take his company to the next level, expanding his line to offer both high-end and affordable retail products.
Following last night's exclusive reveal on TLC, viewers are invited to watch a recap of the program online at facebook.com/macys. America will have the opportunity to see mentors Matt Lewis, co-founder of Baked, Brooklyn, fashion designer Tracy Reese, and interior design guru Sheila Bridges, guide their respective entrepreneurs, offering expert advice on how to successfully market and grow their brands. In addition, celebrity judges Martha Stewart, Tommy Hilfiger and Marcus Samuelsson evaluated the viability of each finalist's business venture to ultimately select the winner.
"As the second season winner of Macy's Million Dollar Makeover, Dylan Gold has the opportunity to bring his dream and passion to life with the help of $1 million and the knowledge he has gained throughout this journey," said Martine Reardon, Macy's chief marketing officer . "Macy's and Clinton, with the help of our industry elite mentors and judges, transformed Dylan physically and professionally. We look forward to watching Dylan's company flourish and to carry his product in select Macy's stores."
The "Macy's Million Dollar Makeover with Clinton Kelly" call for applications at facebook.com/macys took place Jan. 3 through Jan. 31. After "liking" Macy's Facebook page, applicants submitted either a short video or essay and photos about their professional goals and aspirations in one of the highlighted areas of fashion, food or home. Thousands of applicants from across the nation applied, and three finalists were chosen for the chance to win the ultimate prize and be named winner of "Macy's Million Dollar Makeover with Clinton Kelly."
For contestant images and more information about "Macy's Million Dollar Makeover with Clinton Kelly," created by Macy's and JWT New York, please visit macys.com/pressroom. Beginning April 18, "like" Macy's by visiting facebook.com/macys, and the big reveal of Dylan Gold as the grand prize winner.
About Macy's
Macy's (NYSE:M), the largest retail brand of Macy's, Inc., delivers fashion and affordable luxury to customers at more than 800 locations in 45 states, the District of Columbia, Puerto Rico and Guam. Macy's stores and macys.com offer distinctive assortments including the most desired family of exclusive and fashion brands for him, her and home. Macy's is known for such epic events as Macy's 4th of July Fireworks(R) and the Macy's Thanksgiving Day Parade(R), as well as spectacular fashion shows, culinary events, flower shows and celebrity appearances. Building on a 150-year tradition, Macy's helps strengthen communities by supporting local and national charities that make a difference in the lives of our customers.
About TLC
TLC is a global brand that celebrates extraordinary people and relatable life moments through innovative nonfiction programming. A top 10 cable network in key female demos, TLC has built successful franchises around the Cake Boss and Say Yes to the Dress brands. In 2011, TLC had 28 series averaging 1.0 million P2+ viewers or more including Sister Wives, My Strange Addiction, Extreme Couponing, Toddlers & Tiaras, 19 Kids and Counting, Long Island Medium, and What Not To Wear.
TLC is available in more than 99 million homes in the United States and 75 million households in 34 countries internationally. A destination online, TLC.com offers in-depth fan sites, exclusive video content, and original editorial covering style, home, food, and more. Fans can also interact with TLC via On Demand services, on mobile platforms, including an iPhone App, and through social media such as Facebook or @TLC on Twitter. TLC is part of Discovery Communications (NASDAQ: DISCA, DISCB, DISCK), the world's number one nonfiction media company reaching more than 1.5 billion cumulative subscribers in over 210 countries and territories.
Read more Beauty News Articles here on Apparel Search.

2011 Fashion Articles Archive 2010 Fashion Article Archive 2009 Article Archive