The Jeffrey James daily beauty regimen. With seven different products, Jeffrey James Shoe recommends the TONER which includes a blend of colloidal silver, Vitamin C and Geranium essential oil. These three magical ingredients will help achieve clear, effortless, glowing skin for those summer beach days. How the TONER helps the skin:
-colloidal silver is an anti bacterial that removes all bacteria that causes impurities
-vitamin C helps fight free radicals that cause aging and reverses sun damage.
-geranium essential oil nourishes, soothes, heals and evens the tone of the skin.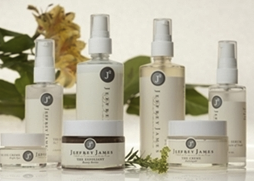 Here is Jeffrey James Shoe summer beauty regimen:
Massage the face all around with warm water the Jeffrey James "Fresh Start" Wash. Rinse thoroughly and pat dry.
Exfoliate with "Beauty Berries" exfoliant by taking a quarter sized amount and scrub in circular motion on the face and neck area, eliminating dead skin layer. Let it sit for 5 minutes and rinse thoroughly with warm water.
With an organic cotton pad, use 3 pumps to wipe away the day with the "Ready Set Glow" toner.
Use the "Fountain of Youth" serum as your first line of defense. After toning, massage 3 pumps on skin including face neck and eye area and let it absorb.
Take a dime sized amount of the Hallelujah creme and gently pat around your face and neck, avoiding eye area for a glow.
Take a small amount of the "Bright Eyes" eye creme and pat around the eye area.
"Let's start with the fact that we only get one body in this life! So, how we feed it, fuel it, and take care of it has a direct effect on how we feel and look now and how healthy we will be in the future. If you are going to put chemicals and toxins on the largest organ of your body (skin), it only makes sense that these chemicals and toxins will affect other organs, your nervous system and beyond. We are bombarded on a daily basis with toxins, from pollution to the plastic water bottle you are drinking out of. We can choose organic, chemically free whole foods to nourish our bodies, over the chemically laden national brands. It will certainly give you the advantage of healthy energy to face the day knowing you have done your part to get, be and stay healthy. Your body is your temple, treat it as such." -- Jeffrey James Shoe
Jeffrey James Botanicals' natural ingredients are hand-selected for its organic purity and healing properties along with the ability to absorb into the skin. Hailed by dermatologists to accommodate all skin types, Jeffrey James Botanicals' simple six-step luxurious line fits easily into a daily regimen for active men and women. Products include a berry-infused exfoliant, a wild indigo-infused crème to fight free radicals, a serum with Hyaluronic Acid making up 50% of the formulation and a facial cleanser with ocean minerals to help aid skin legions and blemishes. Price points range from $20 to $44 and can be purchased online at www.jeffreyjamesorganics.com along with 45 locations nationwide including Fred Segal in Santa Monica, CA.
---
We hope that these beauty tips are of help to you. You may also want to visit the skincare tips section in the beauty area of our site.
Read more Beauty News Articles here on Apparel Search.

---
---
February 2009 Fashion Articles
August 2009 Fashion News Articles